Ontario Tech at 20: A great university success story that's only just beginning
Ontario Tech dramatically outperforming provincial system averages for applications and acceptances
October 20, 2022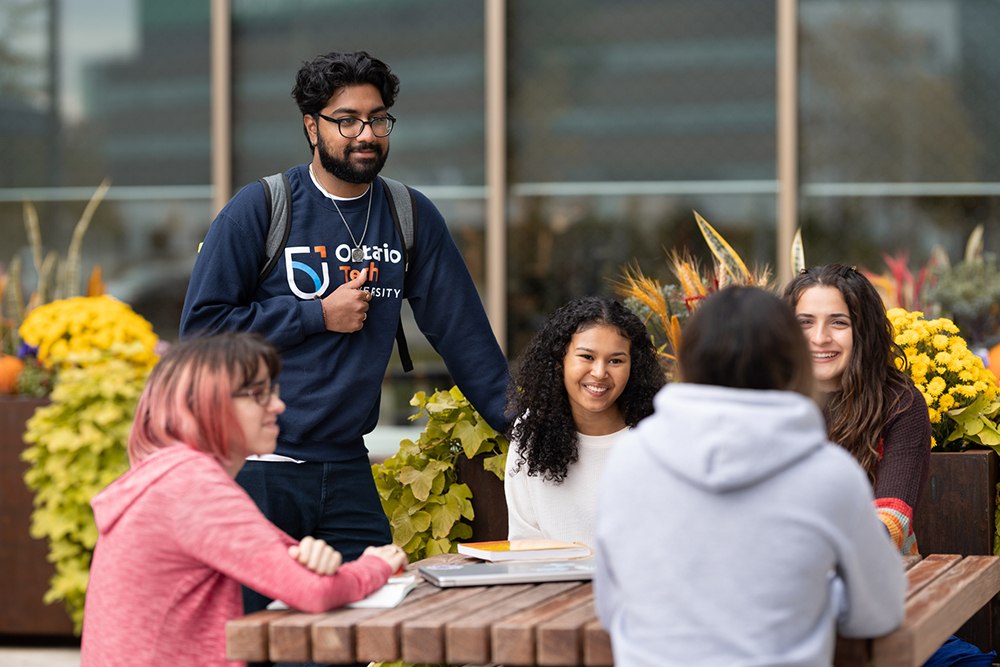 Two full decades after its founding, Ontario Tech University can reflect upon its formative years with immense pride and a confident view toward its future.
Created by provincial legislation in June 2002, Ontario Tech opened to students in September 2003 with an inaugural class of 947 students. As the university's 20th academic year begins (2022-2023), Ontario Tech's initial enrolment data confirms an overall class of 11,168 students.
Taking a closer look at Ontario Tech's latest data related to high school applications and confirmations of admission offers insights regarding the university's growing reputation for delivering outstanding market-driven degree programs, embedded with practical hands-on learning experiences:
2022-2023 academic recruitment cycle trends
High school student applications to Ontario Tech up 25.2 per cent (provincial average: 6.2 per cent).
2 per cent increase among students indicating Ontario Tech as their first-choice university.
Confirmations of admission offers from Ontario Tech up 8.3 per cent (provincial system average: 1.7 per cent).
(source: Ontario Universities' Application Centre)
Ontario Tech offers 75 program choices across seven broader subject areas reflecting Ontario Tech's differentiated mandate: Business, Education, Engineering, Computers and Technology, Science, Medicine and Health, and Social Sciences and Humanities. Enrolment rose in almost every program this year. Ontario Tech also has 30 college-to-university transfer programs.
Ontario Tech's enrolment growth over its first 20 years has been gradual and steady. The university's popularity as a post-secondary destination is realized in reputational strength for high-quality teaching, student services, work-integrated learning opportunities and overall student satisfaction.
Did you know? From internships and co-ops to capstones and global exchanges, more than 90 per cent of Ontario Tech students complete some form of practicum as part of their degrees,
Come check out the award-winning campus and explore its modern infrastructure, classrooms and laboratories at the university's fall Open House on Saturday, October 29.
Ontario Tech's parallel growth in graduate studies
While it has traditionally been grouped by publications like Maclean's magazine as one of Canada's 'primarily undergraduate' universities, Ontario Tech also has a thriving portfolio of master's degrees, PhD programs and graduate diplomas, which contribute to the university's powerful research enterprise.
Since 2018, Ontario Tech's research income has doubled in size, to more than $25 million annually.
Ontario Tech's average per-faculty research funding has risen to $117,000.
Ontario Tech's collaborative partnership with academia-industry partner Mitacs provides training placements in related to industrial and social innovation. Mitacs' generous funding is provided for 25 per cent of our graduate students, the highest of percentage of any university in Canada.
From humble beginnings in the 2005-2006 academic year, Ontario Tech's School of Graduate and Postdoctoral Studies is now home to more than 1,000 students, comprising just over nine per cent of the university's overall enrolment.
Quote
"Ontario Tech's commitment to in-demand programs and innovative learning opportunities like internships, placements, co-ops, and college-to-university transfer opportunities is clearly resonating with prospective students. They are attracted by our campus culture, the successes of our current students and the leadership impact our alumni have in workplace."
-Dr. Lori Livingston, Provost and Vice-President, Academic
Media contact
Bryan Oliver
Communications and Marketing
Ontario Tech University
289.928.3653 (mobile)
bryan.oliver@ontariotechu.ca