Ontario Tech University adding two new engineering programs for 2023-2024
Launch of Energy Engineering and Industrial Engineering programs expands university's engineering offerings to nine
October 17, 2022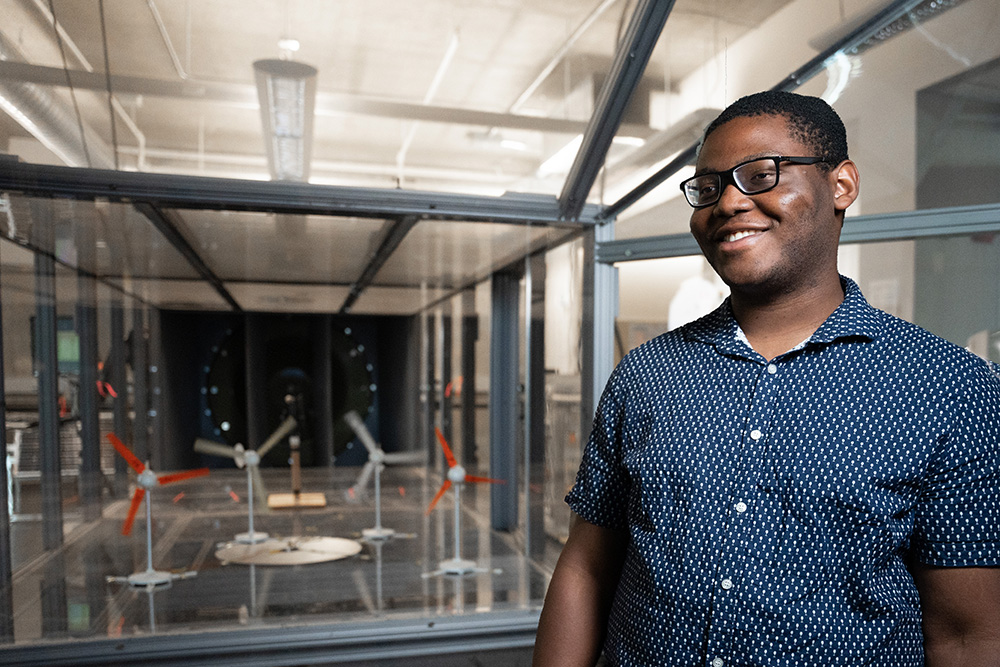 Ontario Tech University's outstanding portfolio of internationally ranked engineering programs will feature a pair of new choices for students, beginning in September 2023.
The Ontario Tech Faculty of Engineering and Applied Science's new Energy Engineering and Industrial Engineering programs will give students even more high-tech avenues to design their future and help make the world a better place.
NEW PROGRAM: Energy Engineering
The world's energy systems, built by previous generations, need to be reimagined and rebuilt over a short timeframe to operate in an era of climate change and meet provincial, national and global objectives to be carbon-free by 2050.
The new multidisciplinary Energy Engineering program will meet the growing needs of the energy sector and prepare students with knowledge to design, control, plan, and manage energy systems and technologies with hands-on experience needed to become successful leaders in Canada and worldwide.
The program covers different aspects of the energy sector, including hydrogen, nuclear, renewables, energy storage and sustainable development, and will integrate mechanical engineering, electrical engineering, nuclear engineering, renewable energy engineering, and more.
NEW PROGRAM: Industrial Engineering
In the profession of engineering, there is a growing need for engineers with skills to meet the challenges of solving interdisciplinary problems. From automotive/transportation systems, to consumer products, to power generations, to information/telecommunications, to health care systems, industrial engineers play a key role in an ever-expanding range of engineering problems. 
The new Industrial Engineering program will help meet the high demand for industrial engineers in Canada and the United States. This discipline integrates several branches of engineering education to optimize and improve complex engineering processes, systems or organizations, and allows implementing innovative integrated systems of people, knowledge and equipment with fiscal effectiveness. Hands-on experience and project-based courses are integral to the program.
The program's innovative curriculum will address rapid industrial evolution and the use of artificial intelligence and machine learning to solve real-world industrial problems. Graduates will gain unique learning experiences to meet the needs of the modern workforce.
Ontario Tech Faculty of Engineering and Applied Science programs (effective September 2023)
Automotive Engineering
Electrical Engineering
Energy Engineering (new)
Industrial Engineering (new)
Manufacturing Engineering
Mechanical Engineering
Mechatronics Engineering
Nuclear Engineering (including the Bruce Power Women in Nuclear Engineering Internship)
Software Engineering
Comprehensive (Students are enrolled in the common first year and one of the above listed disciplines after the first year)
Co-ops are also available in all programs.
All Engineering students begin with a common foundation year. Students also have the option of applying to Comprehensive Engineering, allowing them to choose their specific discipline during their first year of studies.  Ontario Tech's established programs are fully accredited by the Canadian Engineering Accreditation Board.
Students can also complement their technical studies with business and management courses by pursuing the five-year Bachelor of Engineering and Management (Honours) program.
Female Engineering students can access the multi-year Women in Engineering support program to explore opportunities and careers, gain experience in the workforce, and make a successful transition to a professional engineering career.  
Prospective students and their parents can learn more about these new programs and the other engineering programs at the Ontario Tech University Fall Open House, taking place both in-person and virtually on Saturday, October 29 (register at the Open House website).
Gallery
---
Media contact
Bryan Oliver
Communications and Marketing
Ontario Tech University
289.928.3653 (mobile)
bryan.oliver@ontariotechu.ca