Ontario Tech hosting hundreds of students at 2022 Engineering Robotics Competition on November 26
This community outreach gathering is one of the university's longest-running annual campus events
November 16, 2022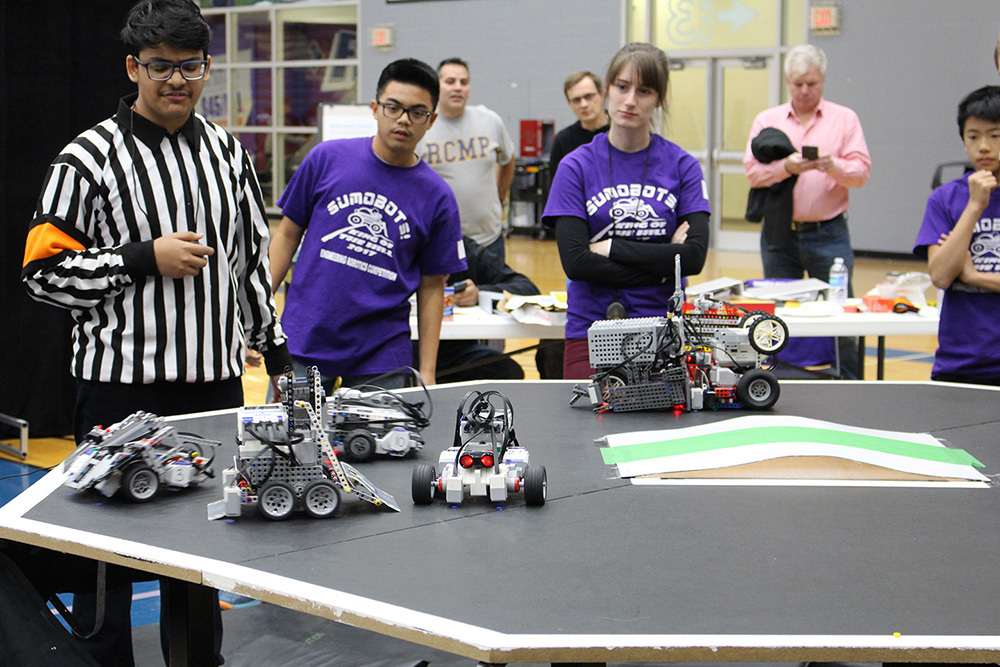 The time has come again for pre-university students to test their science and technology skills in the annual Engineering Robotics Competition.
Every year schools from across the Greater Toronto Area and Ontario come to Ontario Tech University to be engineers for a day.
On Saturday, November 26, over 40 teams will participate in the 15th annual middle school and high school competition, testing students' Science, Technology, Engineering and Mathematics (STEM) skills. Over the past two months, student teams used LEGO Mindstorm technologies (programmable robots based on LEGO building blocks) to design, build, program, and test 'sumo bots' for a full contact arena battle, with the end goal of being the last robot standing.
Ontario Tech professors, undergraduate, and graduate students are excited to welcome students to campus to share their passion for STEM. One organizer for this year's competition, Sydney Smith, participated in the 2014 robotics competition and decided then that she would pursue software engineering at Ontario Tech. Today, Sydney is an Ontario Tech graduate and works as the Engineering Outreach Program Co-ordinator in the Faculty of Engineering and Applied Sciences (FEAS).
"I am excited to share my joy of technology and problem solving with this year's competitors," says Smith. "It feels like not long ago I was here in the gym cheering on my own sumo bot. It admittedly came nowhere near to winning but the excitement I had was immeasurable."
The Engineering Robotics Competition is organized by the university's Engineering Outreach office, which delivers engineering outreach programs to Kindergarten to Grade 12 students in Durham Region and surrounding communities.

Details:

When: Saturday, November 26, from 10 a.m. to 3:15 p.m.
Where: Campus Recreation and Wellness Centre, Gyms 3, 4, 5
Register online by Friday, November 18 to participate.

For more information, contact: roboticscompetition@ontariotechu.ca.