Ontario Tech University a key hub for facilitating partnerships between government, industry and academia
Federal Minister responsible for FedDev Ontario convened local economic roundtable at Ontario Tech; also visited ACE
November 11, 2022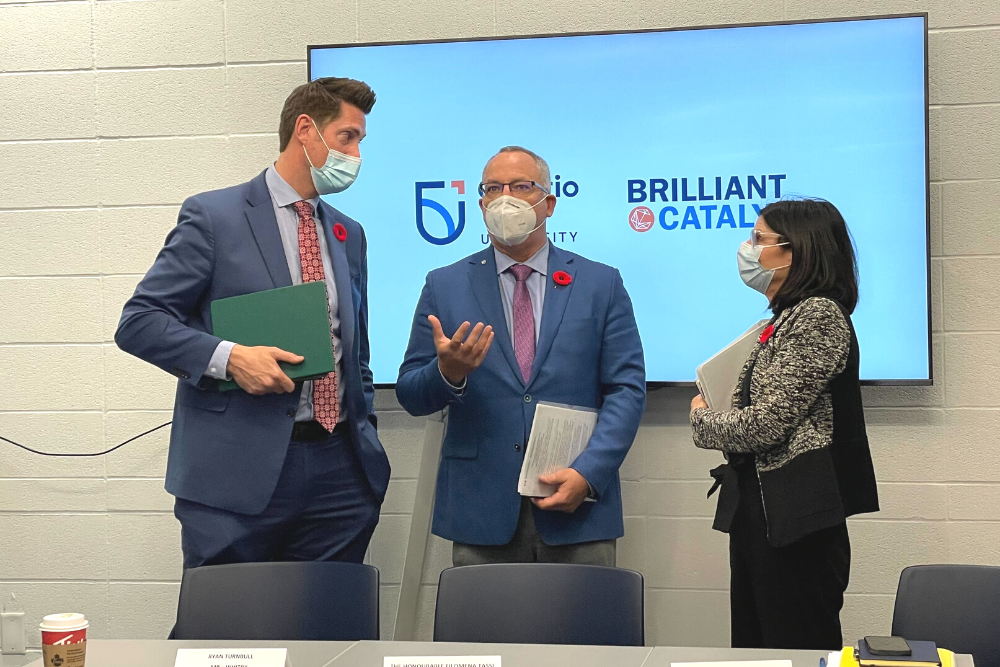 As a key hub of research expertise and an academic institution that graduates highly skilled talent who will drive the industries of tomorrow, Ontario Tech University plays a central role in supporting economic development in Durham Region and beyond. Ontario Tech helps accelerate growth and innovation through partnerships and research discoveries that uncover innovative solutions in a tech-focused world.
On November 9, Ontario Tech welcomed to campus the Honourable Filomena Tassi, Minister responsible for the Federal Economic Development Agency for Southern Ontario (FedDev Ontario). Minister Tassi, along with Whitby MP Ryan Turnbull, FedDev Ontario President Nancy Gardiner and FedDev Ontario Vice-President Linda Cousineau (Business Innovation and Community Development), met with local businesses and organizations in a roundtable discussion at the university's Brilliant Catalyst entrepreneurship and innovation hub. The roundtable was moderated by Ontario Tech President Dr. Steven Murphy.
Key topics arising during the discussion included: Oshawa's rapidly expanding talent base; supports for small- and medium size businesses to modernize and digitize their operations to help them realize their potential; building the social infrastructure (health care, housing) needed to construct 'innovation ecosystems'; and simplifying the navigational processes for business owners to connect with available government supports to ensure they are still able to tend to day-to-day operations.
Minister Tassi also visits Ontario Tech's ACE
Prior to the economic roundtable, Minister Tassi and her team toured Ontario Tech's Automotive Centre of Excellence (ACE), its highly reputed, world-leading solutions provider in automotive engineering and energy. As one of the university's core research facilities, ACE attracts clients from around the globe who come to the university to put the products of the future to the ultimate proof-of-concept testing, and to utilize its capacity for force measurement and aerodynamic simulation.
Minister Tassi learned more about the newest addition to ACE's collaborative research toolbox: an 80-tonne single-belt Moving Ground Plane (MGP). The seven-metre, sub-floor MGP is a 'rolling road' that provides an unparalleled experimental physical simulation of a real vehicle travelling at speeds up to 250 km/h.
Supported by a FedDev Ontario investment, to date the MGP has supported 15 businesses, helped form five new partnerships/collaborations, leveraged $5.5 million in economic activity, and generated and maintained 100 jobs.  
Quotes
"We are committed to making smart investments that put people first and set local communities, like those in Durham region, up for success. By working with innovators like those at the Automotive Centre of Excellence (ACE) at Ontario Tech University, we are helping to harness homegrown talent to create good jobs. Our government will continue working hand in hand with Canadians to build and strengthen local economies that work for everyone."  
–The Honourable Filomena Tassi, Minister responsible for the Federal Economic Agency for Southern Ontario
"Ontario Tech has built a reputation as a research leader in clean energy and mobility innovations. The university is an academic hub and catalyst for creating new industry partnerships and spurs economic growth through the ethical application of technology. We are inspired by Minister Tassi's enthusiasm for new ideas. Her visit to the university creates a foundation to build upon for developing future projects with FedDev Ontario, and ideas that will help drive Canada's leadership in research and innovation."  
-Dr. Steven Murphy, President and Vice-Chancellor, Ontario Tech University
Related link
Gallery