Minister for Women and Gender Equality and Youth visits Ontario Tech
On International Day of Women and Girls in Science, Minister Marci Ien visited a high school STEM workshop for Black youth
February 17, 2023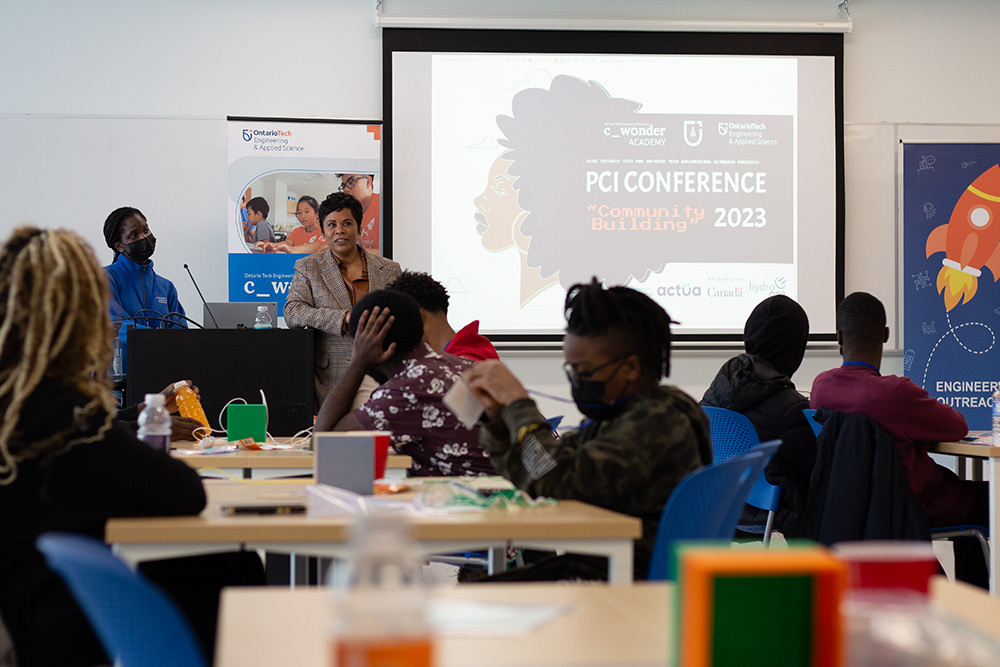 Ontario Tech University was proud to host the Minister for Women and Gender Equality and Youth at an engineering outreach workshop for Black youth on February 11, International Day of Women and Girls in Science.

Organized by the Faculty of Engineering and Applied Science's (FEAS) Engineering Outreach team, Ontario Tech's National Society of Black Engineers and Actua, Canada's leading STEM education outreach organization, the workshop was an opportunity for grade 9 to 12 Black youth from Durham Region high schools to learn more about Science, Technology, Engineering and Math (STEM).
Marci Ien, Minister for Women and Gender Equality and Youth, attended the workshop and spoke with students and faculty about the importance of encouraging more women and girls to choose STEM careers.

The workshop is just one of many events and programs organized by the Engineering Outreach team that promotes STEM to girls, Black youth and Indigenous youth through community partnerships and education.  
With a focus on providing accessible and inclusive opportunities to underrepresented communities, Ontario Tech's Engineering Outreach team developed programs specifically for Black youth in grades 1 to 12. Designed by Black STEM students, the program provides Black youth with a community-oriented and accessible learning environment to explore different areas of STEM, coding, and engineering design. With the intent for students to develop skills critical for the future, the program highlights Black role models, promotes academic pursuits, and encourages growth in STEM literacy. Ontario Tech is proud to offer these programs at no cost to families with the generous support of Actua and the Government of Canada's CanCode program.
Quotes
"We are grateful for the support of the Federal Government and Minister Ien in breaking down the barriers faced by women and equity deserving groups in STEM. We need more girls and women who are encouraged to stick with STEM. This work starts with how we socialize youth from a very young age, and continues throughout the lifecycle. We must all play a role in ensuring Canada engages and benefits from our rich diversity."
-Dr. Steven Murphy, President and Vice-Chancellor, Ontario Tech University
"The Faculty of Engineering and Applied Science was honoured to welcome the high school students and the Honourable Marci Ien for the Black Youth STEM workshop. We're passionate about the diversity that's represented within our faculty, and through initiatives like these, we are able to engage over 28,000 youth to learn about engineering while focusing largely on underrepresented groups. We look forward to seeing some familiar faces in the years to come as these future leaders pursue their undergraduate studies."
-Dr. Hossam Kishawy, Dean, Faculty of Engineering and Applied Science, Ontario Tech University
Gallery