Ontario Tech academic milestone: Mechanical Engineering PhD student first to defend a 'cotutelle' doctoral thesis
Cotutelles create a unique opportunity for graduate students through a partnership with another university
February 24, 2023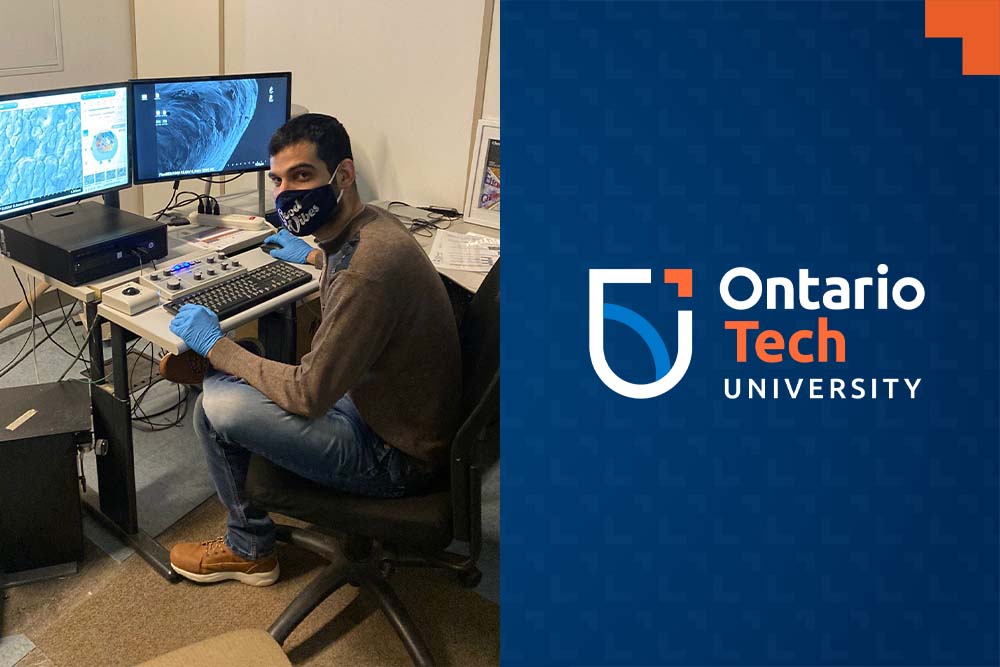 One Ontario Tech University student can add an impressive accomplishment to their resumé as the university's first student to complete a cotutelle PhD.
Faculty of Engineering and Applied Science (FEAS) Mechanical Engineering graduate student, Dr. Hossein Rostami Najafabadi, has successfully completed a cotutelle PhD program between Ontario Tech University and Escola Politécnica da Universidade de São Paulo in Brazil. Dr. Najafabadi's thesis defence in this challenging but rewarding program is the first of its kind for Ontario Tech.
In a cotutelle, graduate students pursue a joint degree through two universities simultaneously, typically in different countries. The research candidate must complete all requirements of both institutions to complete their degree. They spend time at each institution utilizing the unique combined resources available.
Dr. Najafabadi's cotutelle research project focuses on the design and fabrication of inertial micro-electrical-mechanical system sensors for monitoring landslides and dams. After several natural environmental disasters in Brazil, it was apparent to  Dr. Najafabadi that more research needed to understand and develop more-efficient monitoring systems for the area.
Part of the project was done at the Universidade de São Paulo, with supervision from Dr. Thiago de Castro Martins. While in Brazil, Dr. Najafabadi had access to a microfabrication laboratory in the research facility Instituto de Pesquisas Tecnológicas (IPT) to complete experiments in manufacturing. At Ontario Tech, he worked with Dr. Ahmad Barari, Professor, FEAS, an expert in topology optimization and manufacturing. Together, they finalized the design and prepared it for commercial fabrication by CMC Microsystems, a Kingston, Ontario-based not-for-profit organization accelerating research and innovation in advanced technologies.
Quotes
"I congratulate Hossein for his outstanding achievement and Ontario Tech University Engineering for its great students. This first successful cotutelle opens the doors for future students who are interested in this method of study."
-Dr. Ahmad Barari, Professor, Faculty of Engineering and Applied Science, Ontario Tech University
"I believe that Hossein's final thesis perfectly displays the combination of our experience in computational geometry optimization and Ontario Tech's expertise in advanced manufacturing techniques. I am certainly looking forward to working with Ontario Tech again in the future and we are eager to receive more cotutelle students."
- Dr. Thiago de Castro Martins, Professor, Universidade de São Paulo
"Completing a cotutelle requires extra effort to satisfy the requirements of both institutions to earn your degree. Being a graduate student jointly with two universities allowed me to gain vital advice for my research from experts in different fields, and benefit from the experience of professors around the world."
- Dr. Hossein Rostami Najafabadi, Mechanical Engineering PhD student