Ontario Tech's IAEA Collaborating Centre delegation meets with IAEA Deputy Director General in Austria
February 17, 2023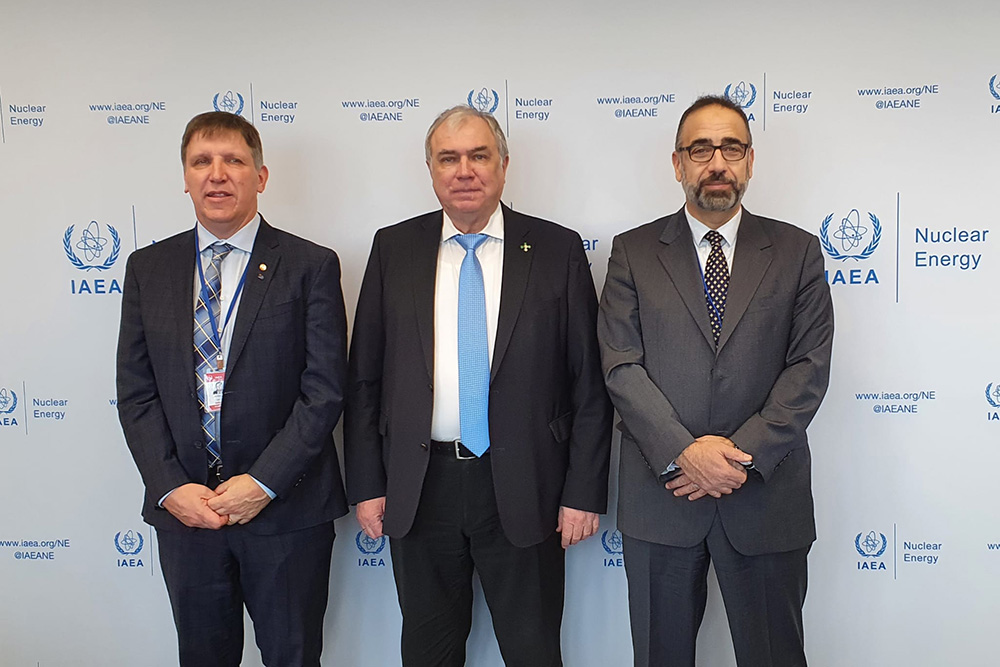 Ontario Tech University and its strong reputation as a prominent centre of renewable, sustainable energy research leadership and expertise had an important audience in Europe earlier this month.
A delegation from Ontario Tech visited the International Atomic Energy Agency (IAEA) headquarters at the United Nation's Vienna International Centre in Austria on February 1.
As the IAEA's official Collaborating Centre for Canada since 2021 and as a vital contributor to nuclear engineering research, scholarship and education, Ontario Tech is committed to strengthening its support the IAEA's vision and mission.
At the Vienna meeting, IAEA Deputy Director General Dr. Mikhail Chudakov highlighted the success of Ontario Tech as an IAEA Collaborating Centre, and Dr. Les Jacobs, Ontario Tech's Vice-President, Research and Innovation presented the Collaborating Centre's recently published annual report of activities. Among many topics discussed at the meeting were nuclear hydrogen production, artificial intelligence and nuclear power, and capacity building in nuclear management.
Dr. Jacobs and Dr. Hossam Kishawy, Ontario Tech's Dean of the Faculty of Engineering and Applied Science also met with IAEA Collaborating Centre Liaison officer Dr. Hadid Subki on the upcoming activities hosted by Ontario Tech University in support of the IAEA. These activities include technical conferences and educational workshops.
The scope of the IAEA Collaborating Centre at Ontario Tech includes integrated energy systems with advanced nuclear reactors with a focus on small modular reactors, as well as hybrid nuclear-renewable energy systems such as hydrogen production, desalination, and district heating and cooling. A major focus is on the role of such systems in climate change mitigation. The promotion of women in nuclear science and engineering, as well as educational opportunities in member states of the IAEA is also part of the scope of the Collaborating Centre.
Gallery