Ontario Tech names Nursing laboratory to honour legacy of Lovell Family's philanthropy
Naming celebrates family's enduring tradition of community support
March 9, 2023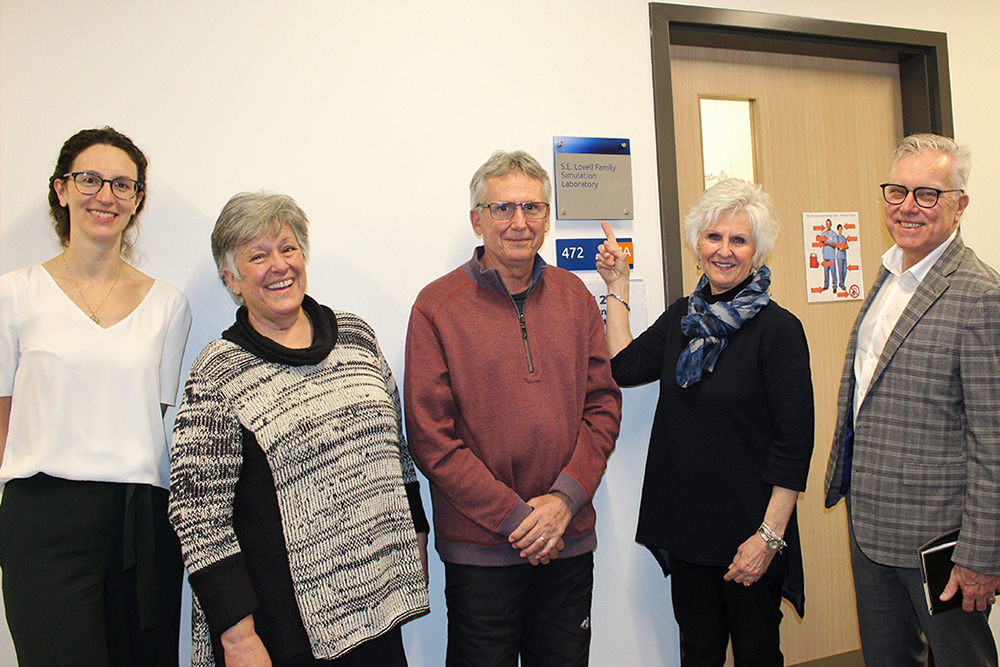 OSHAWA, ONTARIO – Ontario Tech University held an official plaque unveiling at Shawenjigewining Hall on March 1 to recognize the generous, continued support of the Lovell Family. Ontario Tech's nursing innovation suite now bears the name S.E. Lovell Family Simulation Laboratory, recognizing the Lovell Family's legacy of supporting the university, and honouring the memory of Stanley Lovell, who was President of the Lovell Drugs pharmacy chain from 1971 to 2000.
Stanley Lovell's children Diana Kirk, Arthur Lovell and Linda McGill were joined by Dr. Janet McCabe, Associate Dean, Nursing, Faculty of Health Sciences, Ontario Tech University, outside the suite for the plaque unveiling.
The Lovell Family has a strong history of philanthropy focusing on higher education. Longtime champions of Ontario Tech, the Lovells have donated more than $750,000 in support of students and the university.
The family's most recent gift included a significant contribution to the capital construction of Shawenjigewining Hall, the university's newest building that opened in 2021, and to research activities in the MaxSim Health lab led by Dr. Adam Dubrowski, Canada Research Chair in Health-Care Simulation, whose research is advancing simulation training to drive improvements in health-care delivery globally.
Quotes:
"We are proud of our history of support for Ontario Tech University and all that it does to bolster the community. It is an amazing thing for our city to have a university built here allowing students the opportunity to stay close to home and get an exceptional education."
-Arthur Lovell, President, Lovell Holdings Ltd.
"The Lovell Family are passionate champions of our community, health care, and education. Support from donors like the Lovell Family is pivotal for the transformational change needed to re-imagine higher learning through the lens of technology, as we help our students prepare for the world they will create tomorrow."
-Dr. Janet McCabe, Associate Dean, Nursing, Faculty of Health Sciences, Ontario Tech University