Computer Science PhD candidate on the cutting edge of VR training for surgeons
Faculty of Science PhD student Ben Sainsbury's company specializes in VR training
April 3, 2023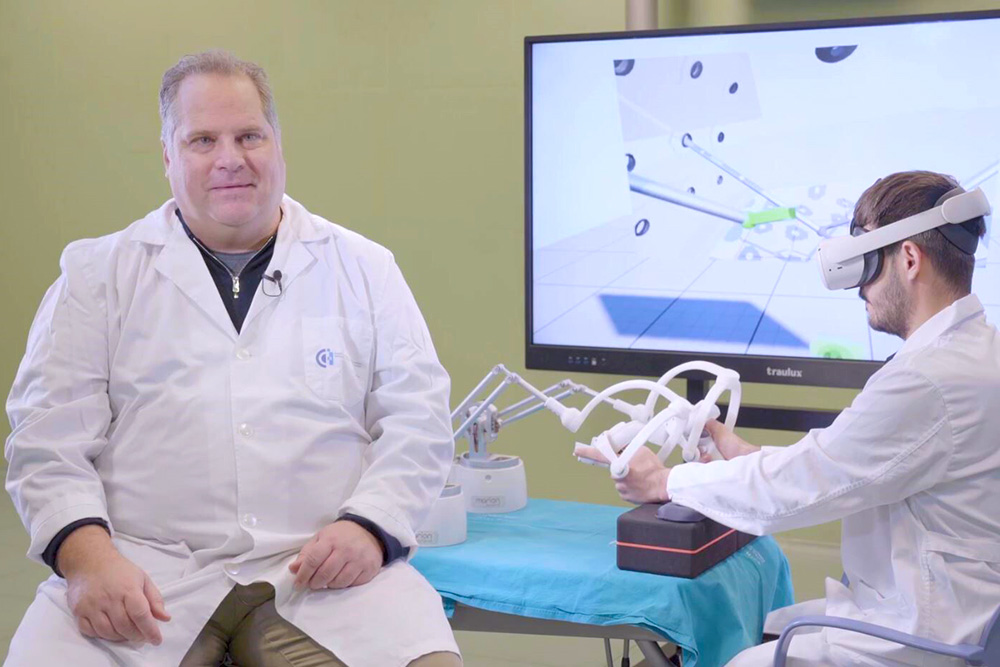 When Ben Sainsbury started his doctoral studies at Ontario Tech in 2013, the Oakville resident was interested in building the next great virtual reality video game. But Sainsbury's interest was drawn to how the technology could help professionals and people in the health care field. 
Sainsbury, a Computer Science PhD candidate in the Faculty of Science, was originally a student in Ontario Tech's Faculty of Business and Information Technology taking a course called Serious Gaming when he began to think about further applications for virtual reality (VR) technology.

"The Serious Gaming course explored applications of video game technology and medical was one of them," says Sainsbury. "I said 'Oh wow, this could be used for surgical simulation'. I got very interested in it."

At first, he built a Google Cardboard VR simulator to perform open heart surgery that he presented at an Ontario Tech alumni event in 2016. That presentation caught the attention of Dr. Rajiv Singal, Chief Surgeon at Michael Garron Hospital (formerly known as Toronto East General Hospital).

Dr. Singal was excited at the prospect of developing VR training for urology surgery, and partnered with Sainsbury to co-found Marion Surgical, a company that is using VR technology to build surgical simulators for rehearsal and training.
In urology surgery, doctors rely on two-dimensional X-rays to determine the point of incision and the location of objects that require removal, such as kidney stones. Sainsbury's VR technology allows doctors to visualize the procedure in three-dimensions, giving them a better understanding of how deep and in which direction they should go when trying to extract a kidney stone.

To make the simulation as close to real life as possible, Sainsbury implemented a patented haptic technology he previously created. Haptic technology simulates the sense of touch by applying forces, vibrations and touch on the user.

"This is six degrees of freedom haptics. Its very precise, and that's what you need when you're trying to do this needle trajectory," he says.

In the early days of Marion Surgical, Sainsbury also received support from Brilliant Catalyst, a business startup incubator at Ontario Tech that helped him incorporate the company and address legal questions. 
Sainsbury says the use of VR in surgical training and rehearsal is more sustainable than using cadavers, and safer than exposing surgeons and patients to X-rays.
Marion Surgical now has one simulator available for sale in several countries, with two more designs in development. Their technology is helping change the face of surgical training. Recently the company also won a $1-million bid to build a VR surgical simulator for minimally invasive robotic surgery systems.

"I think this is the wave of the future in medicine," he says.

True to his video gaming roots, Sainsbury has also developed 'Minimally Invasive', a VR game where players perform surgeries on aliens. Minimally Invasive is expected to be releases on the digital video game storefront Steam later in 2023.
"Minimally Invasive helps teach surgery in a sneaky way, but it's actually a more fun version where you're operating on aliens and cyborgs."

Sainsbury's productive time as a student at Ontario Tech will soon turn another corner when he completes his thesis defence, which served as the concept for his company Marion Surgical, and graduates later this year.
Gallery