How will AI chatbots impact education at universities and in our workplaces?
Ontario Tech University symposium discusses the Implications of artificial intelligence chatbots for academia and higher education
April 20, 2023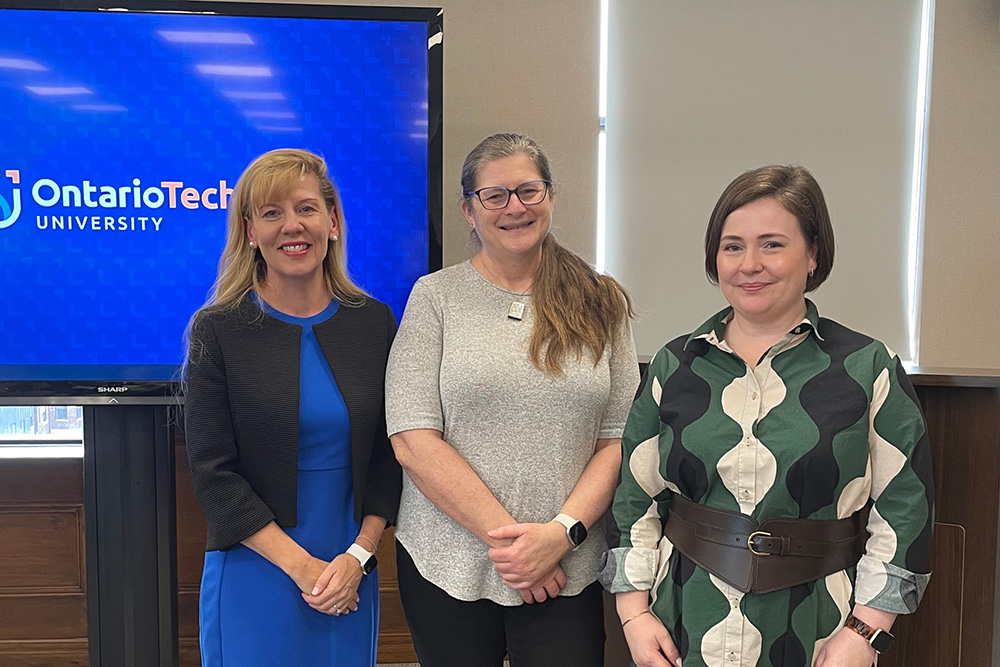 Technological advancements have allowed humans to use tools to perform tasks on their behalf, even automating them to save people time and increase their convenience. From manufacturing to household items, automation is everywhere. But what happens when you automate language and writing, the cornerstone of our culture and our means to express and communicate with one another?
With the advent of generative artificial intelligence (AI) language models such as ChatGPT (Chat Generative Pre-Trained Transformer), researchers at Ontario Tech University are attempting to answer that question and what AI technology means to education and our world as a whole.
Ontario Tech's Faculty of Social Science and Humanities (FSSH) hosted a symposium In March 2023 on the Implications of AI chatbots for academia and higher education. The expert panel featured keynote speaker Dr. Jason Tham, Assistant Professor in the Department of English at Texas Tech University and member of Ontario Tech's Digital Life Institute. The panel also included Ontario Tech's Dr. Isabel Pedersen, Professor, FSSH, and Director of the Digital Life Institute, Dr. Alyson King, Associate Professor, FSSH, and Chelsie Lalonde, MLIS, Librarian for FSSH. Dr. King and Lalonde shared their expertise on AI, copyright, and plagiarism-related issues and how they pertain to education within the Ontario Tech community.
"Will generative AI help you with what you're doing, or will it replace what you're doing?" asks Dr. Pedersen, symposium organizer, and an expert in the field of AI and futurism.
In Dr. Pedersen's own course called Communication Futures, AI and Ethics, she is grappling with how to incorporate the use of chatbots that can generate text based on a user's input. She acknowledged that in the workplace students will be expected to use AI chatbots and may not be required to cite their use.
"We need people who are studying the phenomenon to use those technologies so they can question them appropriately, bearing in mind the responsibility of higher education institutes who all have students exposed to these kinds of technologies," says Dr. Pedersen.
She has authored two books on AI, including Writing Futures (2021), that explores a future where non-human agents could write alongside, or even for, humans. Fast forward to 2023 and that moment may already be here. She plans to author another book examining 'digital employees, digital assistants, and personas that are fully immersed in our work environments.'
While the March symposium examined the increasing use of AI chatbots in academic settings and the potential implications for students and faculty researchers, the experts also discussed using chatbots as writing assistants and as a tool. Dr. Pedersen noted that while many people accept ChatGPT as an editor, it is harder to accept it as a replacement for human writers. ChatGPT was also compared to Wikipedia as a learning disruptor. Initially shunned in academia, Wikipedia now often serves as a launchpad for research, but still needs to be cross-referenced with other sources.
Many symposium attendees were interested in how to integrate chatbots into their courses. Dr. Tham provided guidelines on how to use them effectively, such as providing assignments to students where they use ChatGPT to generate a first draft, and then asking them to point out where they would make edits. He also emphasized the importance of building digital literacy for all members of society.
Dr. Tham compared the impact of AI chatbots to the invention of electricity for their capacity to be transformative in our lives. Dr. Tham also acknowledged the potential risks of using AI, such as inherited biases and copyright concerns, and advocated for development of an 'AI Bill of Rights' that includes principles of human control, fairness, accountability, and privacy.