Ontario Tech Education researcher and students develop practical tools to support the development of school-readiness skills
Team led by Dr. Brenda Jacobs contributes to CityStudio Durham project focused on improving children's outcomes
May 4, 2023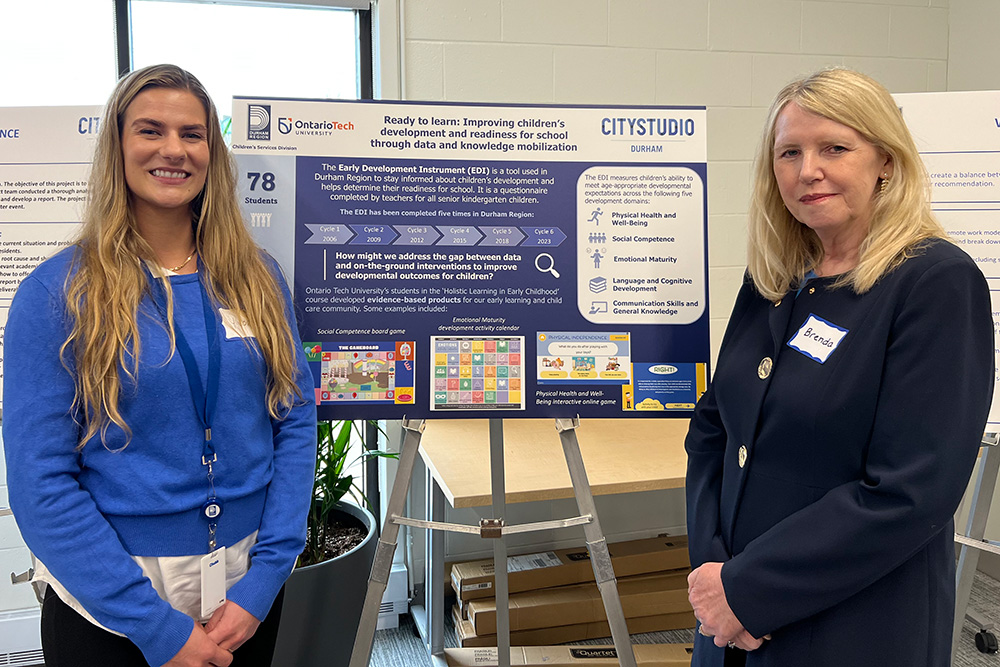 Starting school is a big step for young children. Being 'school ready' means possessing the age-appropriate social, emotional, physical, communication and cognitive development skills that help kids get along with peers, follow instructions and communicate their needs. Without early intervention, any gaps in these skills can affect a child's ability to thrive in the classroom and reach their full learning potential in later years. 
Dr. Brenda Jacobs, Assistant Teaching Professor in Ontario Tech University's Faculty of Education, recently led 78 students in a project investigating practical ways to improve the development and school-readiness of children in Durham Region. The project was the final assignment in the fourth-year Holistic Learning in Early Childhood Education course Dr. Jacobs teaches as part of the university's Bachelor of Arts in Educational Studies program.
The project was initiated by CityStudio Durham, a collaboration between the Region of Durham, Durham Regional Police Service, Ontario Tech University, Durham College, and Trent University Durham-GTA that provides experiential learning and civic engagement opportunities for post-secondary students. Working with municipal staff, students apply their skills, creativity and entrepreneurial spirit to address challenges facing the local community and shape a better future for Durham.  
Dr. Jacobs and the students began by looking at data collected through the Early Development Instrument (EDI), a questionnaire developed at the Offord Centre for Child Studies at McMaster University. Kindergarten teachers across Ontario complete the questionnaire to measure children's school readiness in five key domains:
Physical health and well-being
Social competence
Emotional maturity
Language and cognitive development
Communication skills and general knowledge
The Region of Durham has an interactive EDI tool that aggregates the data collected from the questionnaire and displays high and low scores for children in Durham Region and the province. The tool sheds light on developmental strengths and weaknesses that may be found in certain neighbourhoods or groups of children, and shows patterns over time. Communities can use the data to plan policies and programs to support the development of their children and address specific areas of vulnerability.
Using this data, the students worked in groups to create products (practical resources and tools) that parents, families, caregivers and early learning professionals could use to improve children's outcomes. They included:
Physical health and well-being online game
Social competence board game
Emotional maturity activity calendar
Video on potty training
CityStudio Durham showcased these products at an event on April 18.
Quote
"I am incredibly proud of the work the students did in the course. It was quite clear that they enjoyed working with real-world data to create products that will help children and their families in the Durham Region. Hands-on learning is a key component of the academic journey for Ontario Tech University students, and our partnership with CityStudio Durham supports this priority. This most recent collaboration was a huge success, and I look forward to working with CityStudio Durham in the future to provide these valuable learning experiences for my students."
- Dr. Brenda Jacobs, Assistant Teaching Professor, Ontario Tech University
Gallery