Ontario Tech Engineering Outreach instructor receives national award
Actua honours Hunter Johnson's commitment to encouraging young people to explore STEM disciplines
May 15, 2023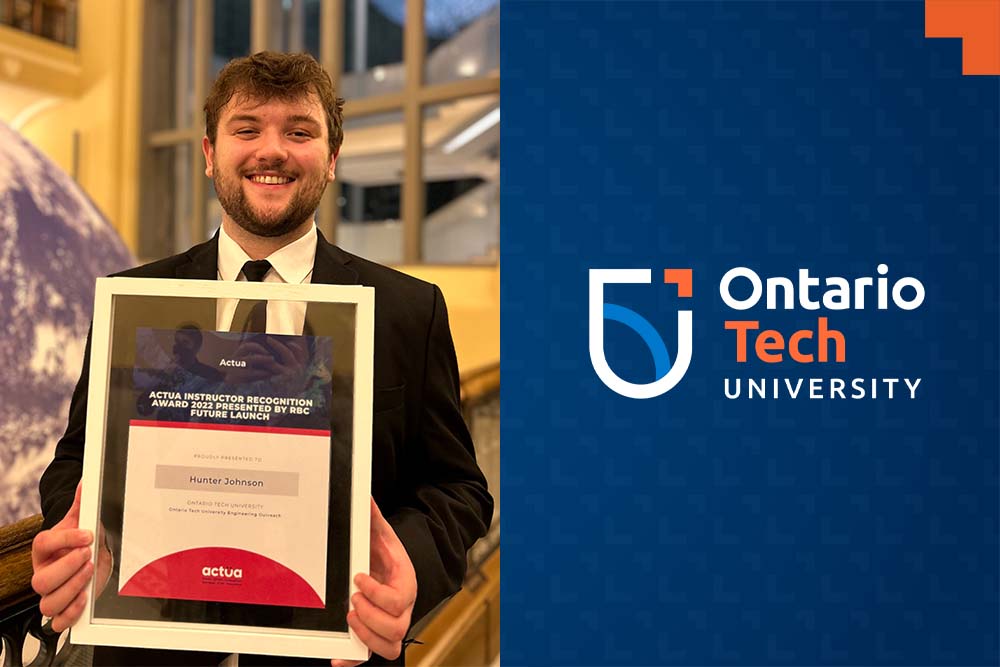 Ontario Tech University's Engineering Outreach team works hard to provide accessible, inclusive, and transformational hands-on learning opportunities that inspire youth in Durham Region and surrounding communities to pursue science, technology, engineering and math (STEM) careers.
The efforts of Hunter Johnson, Indigenous STEM Instructor with Engineering Outreach, recently garnered national recognition from Actua, Canada's largest outreach network delivering educational STEM programs to young people. Johnson received the 2022 Actua Instructor Recognition Award for his commitment to teaching youth about STEM.
The award recognizes Johnson as a high-performing, valuable member of the Engineering Outreach, an initiative of Ontario Tech's Faculty of Engineering and Applied Science. Johnson is a positive influence and role model not only to youth participants, but also to other instructors and volunteers, whom he encourages to go the extra mile.
Johnson, a fourth-year Health Sciences (Public Health) student at Ontario Tech, has worked with the university's Engineering Outreach team since 2021. His responsibilities include developing and delivering content that incorporates Indigenous perspectives into western views of STEM, and participating in community outreach events to engage Indigenous and non-Indigenous youth. He works with many regional organizations and community members to tailor their Indigenous programs to local Indigenous family and youth needs.
In 2019, Ontario Tech Engineering Outreach joined Actua's growing national network of universities and colleges. Actua's 43 members share a mission of engaging youth from all corners of the country in transformational STEM learning experiences that build critical employability skills and confidence.
Quotes

"The past two years working with Engineering Outreach have been such a rewarding experience. Receiving the 2022 Actua Instructor Recognition Award means a lot to me as it exemplifies my dedication and commitment to science, technology, engineering and math education, especially when it comes to Indigenous youth in STEM. I look forward to continuing the progress we've made to equip youth with skills and experience in STEM."
- Hunter Johnson, Indigenous STEM Instructor, Engineering Outreach, Ontario Tech University.
"Ontario Tech University Engineering Outreach instructors work very hard throughout the year to grow this passion within youth. It is so exciting to see one of our instructors get recognised by Actua for their efforts."
- Ellen James, Women in Engineering and Engineering Outreach Supervisor, Ontario Tech University.