Ontario Tech, OPG and Mitacs collaborating to study environmental impact of low-carbon electricity generation
Life cycle analysis to cover lithium-ion battery technologies, small modular reactors, solar photovoltaics and wind turbines
May 17, 2023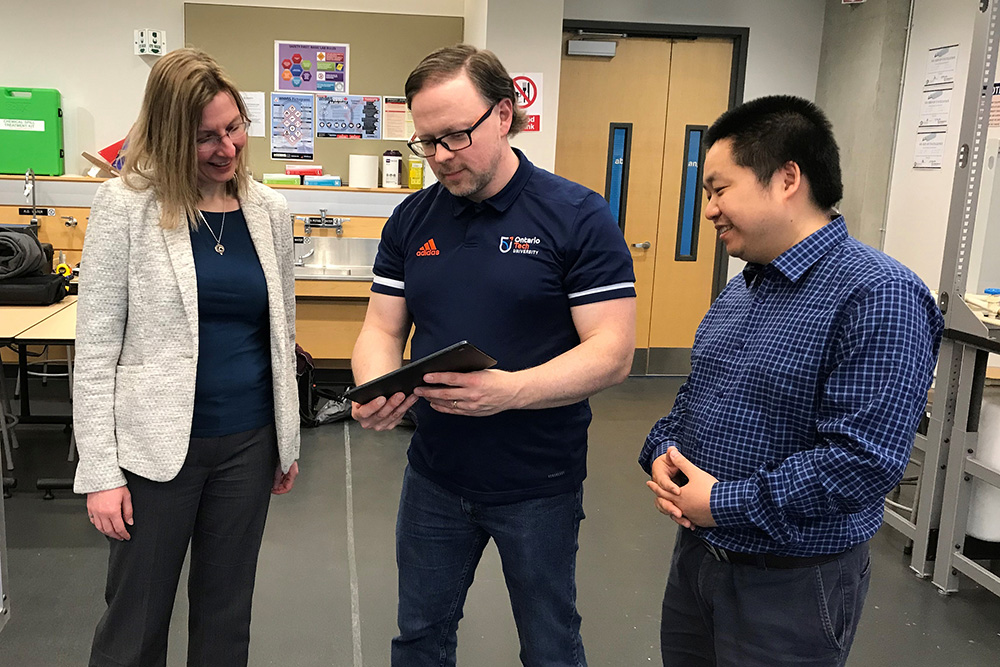 A team of Ontario Tech University researchers is launching an important Ontario-centric investigation to fully evaluate the environmental impacts and costs of technologies used to supply low-carbon electricity.
The two-year study, jointly funded and supported by Ontario Power Generation (OPG) and Mitacs, a not-for-profit organization that empowers Canadian innovation through effective partnerships. The Ontario Tech research will apply 'life cycle assessment' (LCA) to different energy processes, considering impacts from the point where raw resources are extracted from the ground, through to the final management of all waste. 
"No energy technology is inherently perfect: there are always going to be pros and cons," explains Ontario Tech's Dr. Jennifer McKellar, Associate Professor, Faculty of Engineering and Applied Science (FEAS), one of the experts leading the project. "For example, solar photovoltaics (PV) do not create carbon dioxide emissions during actual electricity generation, but the land requirements for their deployment can be significant. Similarly, both PV panels and wind turbines require critical minerals. It is important that we have a complete picture."
As part of the project, the research team will recruit multiple postdoctoral fellows, PhD and master's students for several internships to assist with the research.
Through LCA methodology, the research team will analyze more than just carbon footprint. They will fully examine many different environmental impacts, including potential contributions toward ozone layer depletion and land use.
Small modular reactor evaluations
One of the ground-breaking aspects of this project involves the relatively recent advent of Small Modular Nuclear Reactors (SMRs), a rapidly developing clean energy alternative expected to be deployed before the end of the decade. SMRs produce less electricity compared to the familiar CANDU reactors at large nuclear energy plants but will offer scalability, siting flexibility and lower initial capital investment to benefit our future energy needs.  
"This study will be one of the first to comprehensively undertake this type of analysis for an SMR, simply because most of these are still in the development stage," says Dr. Kirk Atkinson, Director of Ontario Tech's Centre for SMRs, and Associate Professor, FEAS. "Although we have a good handle on what SMR environmental performance will look like, this study will examine the details."
Climate change driving an energy transition, such as grid-scale electricity storage in lithium-ion batteries
While LCA studies on solar and wind technologies to date have been extensive, the emerging realm of lithium-ion batteries requires its own set of studies to assess the environmental impact of battery production, use, and end-of-life management. Given Canada's rich mineral resources, there is potential for the country to become a leader in lithium mining, and it is important to investigate the potential environmental impacts of this emerging industry.
"As interest in lithium mining grows, it is important to accelerate studies on the environmental impact of the entire life cycle of lithium-ion batteries, from mining to disposal," says Dr. Xianke Lin, Assistant Professor, FEAS. "Our collaborative study with OPG and Mitacs Accelerate will be unique in that the analysis is an Ontario-specific examination of these four technologies, simultaneously. This means we will be able to compare across technologies in a way that would not be possible if all four technologies were studied separately by four different researchers. This ensures a consistent and level playing field."
In addition to being a great opportunity for Ontario Tech graduate students to work in conjunction with industry, the project will explore an important hypothetical question for Ontario-centric supply chains:  What if instead of importing materials and technologies from around the world, we maximized production and manufacturing in Canada, and Ontario?   
Media contact
Bryan Oliver
Communications and Marketing
Ontario Tech University
289.928.3653 (mobile)
bryan.oliver@ontariotechu.ca
About OPG
As one of North America's largest, most diverse electricity generators, OPG invests in local economies and employs thousands of people across Ontario and the US. OPG and its family of companies are leading the development of new clean technologies, refurbishment of existing assets, and electrification initiatives to power the growing demand of a clean economy for decades to come.
Learn more about how the company is advancing these initiatives while prioritizing people, partnerships, and strong communities by reading OPG's Climate Change Plan, Reconciliation Action Plan, and Equity, Diversity, and Inclusion (ED&I) strategy.
About Mitacs
Mitacs empowers Canadian innovation through effective partnerships that deliver solutions to our most pressing problems. For over 20 years, Mitacs has assisted organizations in reaching their goals, has funded cutting-edge innovation, and has created job opportunities for students and postdocs. We are committed to driving economic growth and productivity and to creating meaningful change to improve quality of life for all Canadians.
Our mission is to build a world-class, diverse community of innovators through our collaborative model, attracting and deploying top talent to industry, and matching need with expertise to create ambitious solutions to real-world challenges.
We believe that increasing Canada's productivity and prosperity will be driven by successful innovation and we're passionate about developing the next generation of researchers who will work to fuel Canada's knowledge-based economy.
Discover us at mitacs.ca
---
About Ontario Tech University
A modern, forwarding-thinking university, Ontario Tech advances the discovery and application of knowledge to accelerate economic growth, regional development and social innovation. We inspire and equip our students and our graduates to make a positive impact in a tech-focused world. For us, it's not only about developing the next tech breakthrough. Understanding and integrating the social and ethical implications of technology differentiates us as university. Learn more at ontariotechu.ca.