Ontario Tech University Health Sciences PhD candidate helping Toronto Blue Jays keep their eye on the ball
Matthew McCue applying his high-level sports research to identify effective gaze behaviour in the batter's box
May 25, 2023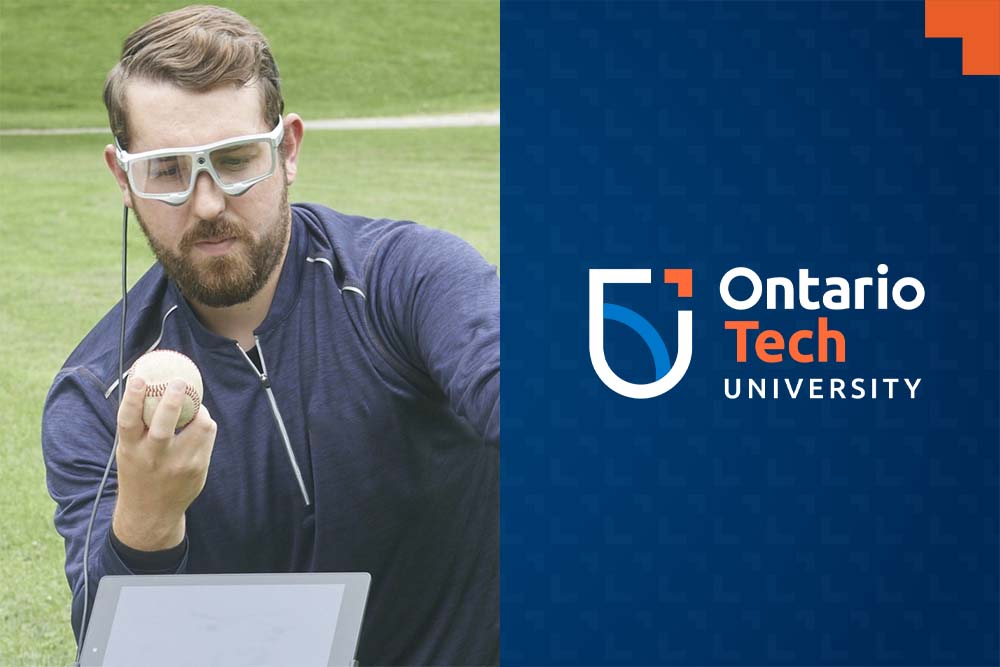 In baseball, pitchers and batters play a cat-and-mouse game of trying to gain an edge over one another. With the help of their coaches, pitchers have long utilized technology to help them advance their throwing skills. But an Ontario Tech University PhD candidate is now trying to give batters a new edge with his research into their gaze behaviour at the plate, as they prepare for each pitch.

Matthew McCue, who is completing his PhD in Health Sciences (Kinesiology), has hit a home run of sorts when it comes to high-level sports research. After starting his master's degree research (also in Kinesiology) into the gaze behaviour of athletes, he was hired in 2020 by the Toronto Blue Jays as a Scouting Assistant, giving him access to evaluate major league Blue Jays batters and minor league prospects as part of his research.

McCue's research seeks to test a batter's 'gaze protocol' to see if it can mitigate the negative effects of traditional pre-game practice conditions that some players and baseball experts consider counterproductive. He expects to complete his research and program later this year.
"There's been a conversation in baseball for a long time about baseball players taking batting practice before the game," says McCue. "You have a coach throwing, lobbing it in, and there are some players that are really tied to that time-honoured pre-game tradition. But the velocity of these practice pitches are nowhere close to the actual speed of pitches that batters experience in real game conditions. There are other hitters who say these relatively slow practice pitches can be problematic; they say, 'it slows my swing down, and I don't perform as well when I do this before a game'."
There isn't much quantitative evidence yet to support either side of the argument. McCue hopes to use his research to provide definitive data.
McCue uses a mobile eye-tracker to study baseball hitters' gaze behaviour inside the batter's box. The device has two cameras that sit below each eye and look at the player's pupil, and another camera focused on the external visual (the pitcher or pitching machine). The cameras synchronize so that researchers can see precisely what the player is looking at, and for how long.
The device provides metrics such as fixation location, fixation duration, blinks, pupil dilation and saccades. Fixations are eye movements that last for more than 100 milliseconds, while blinks measure how often a player blinks. Saccades are ballistic eye movements that measure how quickly a player's eyes move from one fixation point to the next, which is what a hitter does directly before a swing is made.
Using data from the eye-tracker, McCue is comparing veteran and novice performers to determine how different skill levels respond to practice conditions. His research also explores how mental fatigue and unrepresentative practice affects performance.
"We are trying to use the eye-tracker to provide some evidence that either these drills are harming something hitters are doing with their eyes, or the drills are truly helping them in ways that will give them an advantage," McCue says. "We're trying to diagnose the more optimal things they're doing with their eyes and how this influences things downstream like your swing, and then trying to teach younger players how to use their personal information to their advantage."

As a former varsity baseball player for the University of Jamestown in North Dakota (U.S. National Association of Intercollegiate Athletics), McCue's involvement with the Toronto Blue Jays, and his research that aims to help their bats, is doubly exciting.

"As a player, I didn't really think about what I was looking at while I was hitting, and no one ever talked to me about it, which seems weird," he says. "I wanted to dig into why; maybe there is a lot more to uncover here that we should think about."
Finding that edge in the cat-and-mouse baseball battle between pitchers and batters is one of his favourite things about the game.
"When the pitchers make an adjustment, the hitters must adapt," he says. "For the last five years I know pitchers have really outpaced hitters using technology. It has gotten to a point now where hitters are striking out at historically high rates in Major League Baseball. You're starting to see more technology emerge on the hitter's side to help them counter that."
In the future, McCue hopes to expand his gaze behaviour analysis to pitchers and fielding positions.
As for the Toronto Blue Jays season this year, McCue is excited to see the impact of up-and-coming prospects and the roster in action.
"It's a really exciting year for the franchise."
---
Media contact
Shane MacDonald
Communications and Marketing
Ontario Tech University
905-261-1705 (mobile)
shane.macdonald@ontariotechu.ca