Two Ontario Tech University professors recognized for their significant contributions to engineering in Canada
Dr. Hossam Kishawy and Dr. Igor Pioro elected Fellows of the Canadian Academy of Engineering
June 13, 2023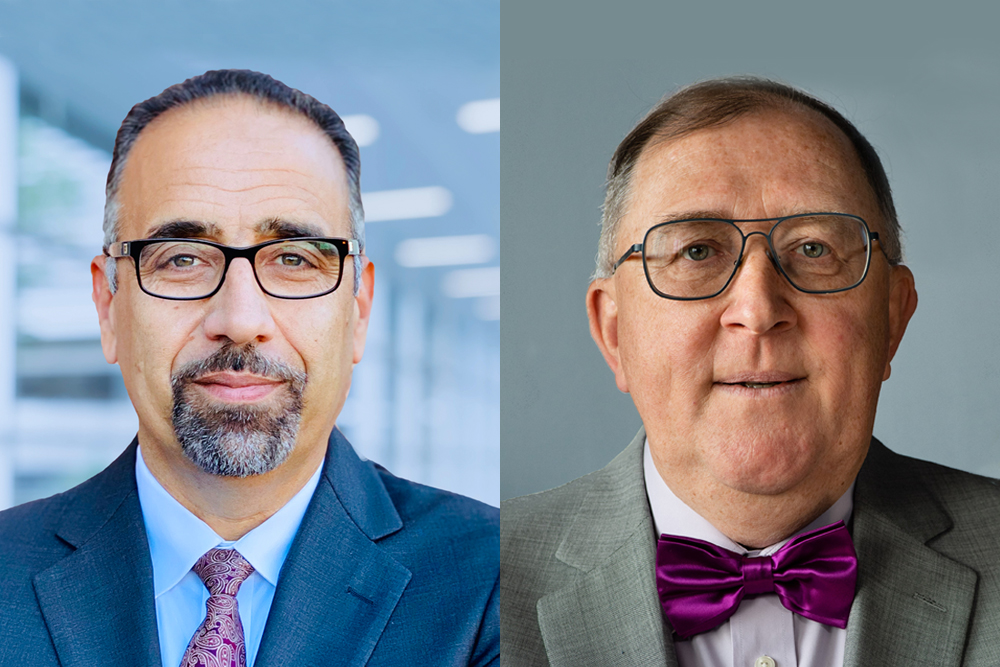 Over the past two decades, Ontario Tech University's Faculty of Engineering and Applied Science (FEAS) has built an outstanding reputation for excellence in research, strong collaborations with industry and government partners, and innovation in teaching and learning. The university's FEAS faculty members drive relevant and leading-edge research in a wide range of areas focused on providing innovative solutions to issues at the local, national and international levels.
Two Ontario Tech Engineering researchers, Dr. Hossam Kishawy and Dr. Igor Pioro, are among 55 new Fellows recently elected into the prestigious Canadian Academy of Engineering (CAE), in recognition of their distinguished contributions to engineering in Canada and their career-long service to the engineering profession.
The CAE is an independent, self-governing and non-profit organization that provides strategic advice on engineering matters of critical importance to Canada and to Canadians. Election to the CAE is one of the highest professional honours accorded an engineer. Those designated as Fellows have distinguished themselves in different sectors including business, academia and government and in different roles such as business management, executive management, technical, and university faculty. CAE Fellows are nominated and elected by their peers (current CAE Fellows).
Dr. Kishawy and Dr. Pioro will join the other new Fellows at the CAE Induction Ceremony on Tuesday, June 20 in Victoria, British Columbia.
Dr. Hossam Kishawy, Dean and Professor, FEAS
Dr. Hossam Kishawy has made significant contributions to research, education and academic leadership. He has led Ontario Tech's FEAS to a significant growth in infrastructure, enrolments, student diversity and research capacity. His research contributions have resulted in a new understanding of surface quality, integrity, and detection of residual stresses, particularly for hard turning-technology, a machining process used in automotive applications. Dr. Kishawy's development of new nanoparticle-based cooling techniques have led to significant advances of more environmentally friendly and sustainable manufacturing processes. Dr. Kishawy is a senior member of the SME (formerly the Society of Manufacturing Engineers), member of the College International pour la Recherche en Productique (International Academy for Production Engineering), and an elected Fellow of the American Society of Mechanical Engineers (ASME), Engineering Institute of Canada (EIC), and Canadian Society for Mechanical Engineering (CSME).
Dr. Igor Pioro, Professor, FEAS
Dr. Igor Pioro is a leading world expert in nuclear energy and related engineering systems. His contributions to the field are well documented in more than 500 publications and 26 inventions.
He has been actively involved in research related to heat transfer, thermal hydraulics, and developments of Generation-IV reactor concepts: the next generation of nuclear reactors that will feature more advanced and diverse designs aimed at making nuclear power plants more efficient, less expensive and safer through the incorporation of new technologies with passive-safety systems. He has trained many students who are now practicing engineers in these fields.
He is also Fellow of ASME, CSME and EIC; Foreign Fellow of the National Academy of Sciences of Ukraine; and Founding Editor - Editor-in-Chief of the ASME Journal of Nuclear Engineering and Radiation Science.
Quote:
"Congratulations to Dr. Kishawy and Dr. Pioro on this high honour. Ontario Tech University is exceptionally proud of their engineering leadership, and their innovative teaching and research contributions, all of which continue to push the boundaries of thinking and learning while improving the lives of humans and preserving our planet."
- Dr. Lori A. Livingston, Provost and Vice-President, Academic, Ontario Tech University