Ontario Tech University PhD candidates advancing talent identification and mental performance research in sports
PhD candidates Garrett Blakey and Bryan McLaughlin leading innovative research in high-performance sports
July 21, 2023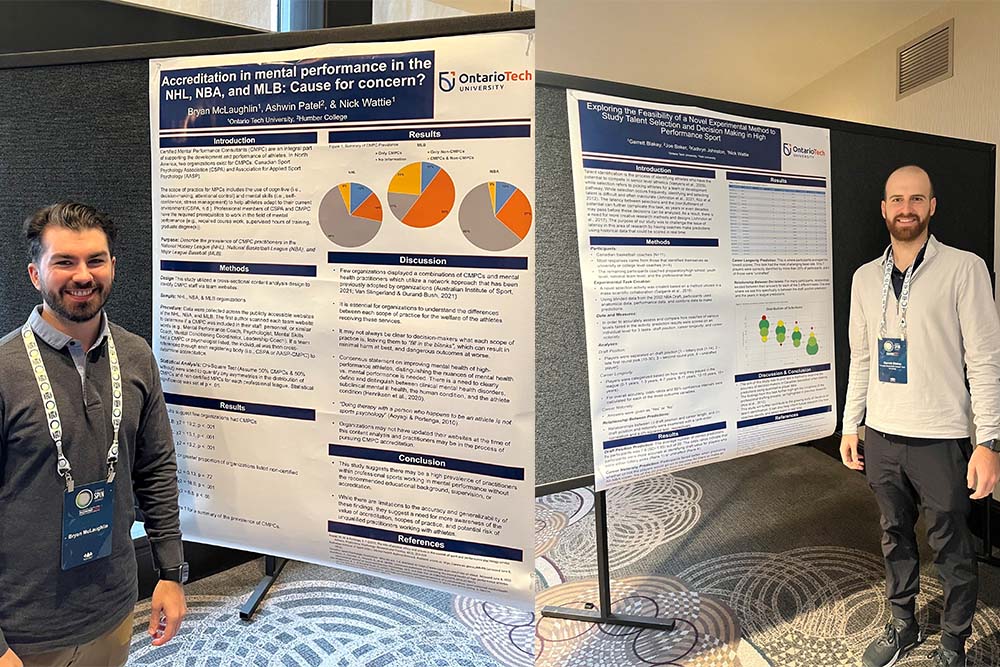 New research at Ontario Tech University has the potential to improve the way Canada's top athletes are identified, selected, and supported to help them achieve their highest potential. Faculty of Health Sciences (FHSc) PhD candidates Garrett Blakey and Bryan McLaughlin are leading innovative research in the fields of talent identification and mental-performance consulting that could improve sports organization practices and advance the playing field for elite athletes.
Garrett Blakey: Talent identification and selection in high-performance sports
Garrett Blakey, a Faculty of Health Sciences Kinesiology PhD candidate and graduate of the fitness and health promotion program at Durham College, hopes his research into talent identification and athlete selection will change the way coaches select players for their teams. Combining his academic pursuits with practical experience as a performance coach for Canada Basketball, Blakey's research aims to refine talent identification practices and minimize bias in the player selection process.
Under the guidance of his FHSc supervisor, Dr. Nick Wattie, Blakey began developing a method that evaluates how coaches perceive and identify talent, focusing specifically on basketball. Working within Dr. Wattie's Expertise and Skill Acquisition Lab, by incorporating anthropometric measures (height, weight, body-mass-index), performance data, and comprehensive statistical analysis, Blakey's research challenges subjective measures and emphasizes the importance of objective, data-driven insights in talent identification.
Blakey's study reveals that coaches excel in identifying undrafted players and those with the highest potential to become elite picks. However, their accuracy decreases with mid-range selections, as they revert to biases that can affect talent identification.
"Biases can manifest in various ways," says Blakey. "For instance, coaches might favor players from prestigious schools or place excessive emphasis on physical attributes like height without considering other important factors. These biases can significantly impact the selection process, leading to missed opportunities and potential misjudgments."
Blakey hopes to refine the decision-making process by providing more precise feedback to coaches and organizations.
"I plan to investigate potential biases in Canadian basketball and explore intangible factors like coachability, which may impact talent identification."
The sport community's increasing recognition of the value of data-driven insights in talent identification is bridging the gap between research and practical coaching.
Bryan McLaughlin: Enhancing mental performance in sports through accreditation
Bryan McLaughlin, also a FHSc Kinesiology PhD candidate under the supervision of Dr. Wattie, is examining the importance of accreditation in mental performance consulting. McLaughlin's findings reveal a concerning trend: many professional sports organizations employ individuals in the field of mental performance who are without the necessary qualifications, potentially harming the athletes seeking their services.
In North America, two governing bodies, the Association for Applied Sports Psychology and the Canadian Sport Psychology Association, play a vital role in ensuring professionals are adequately qualified through rigorous education, internship hours, and accreditation processes.
"Mental health and mental performance are distinct, and it is crucial to have qualified professionals in each domain," McLaughlin says.
Outside of his research and studies, McLaughlin serves as the Mental Performance Consultant for all varsity student-athletes at Ontario Tech University and works as a research assistant with the Toronto Raptors, focusing on resilience in a high-performance environment.
"My own challenges as an athlete playing hockey shaped my interest in mental performance. I faced struggles growing up due to my smaller stature and frequent injuries. Now I have the privilege to assist athletes in achieving their goals through developing their enhanced mental skills."
McLaughlin's research emphasizes the need for qualified professionals who adhere to ethical practice and professional standards. Accreditation ensures practitioners stay within their areas of expertise and contribute to the athlete's overall well-being and performance.
McLaughlin anticipates that mental performance consulting will become the norm in professional and amateur sports organizations in the coming decade, echoing the rise of strength and conditioning programs.