Ontario Tech researcher inspires young students during visit to her former elementary school in Australia
Dr. Carolyn McGregor AM speaks to students at her childhood school about importance of math
August 2, 2023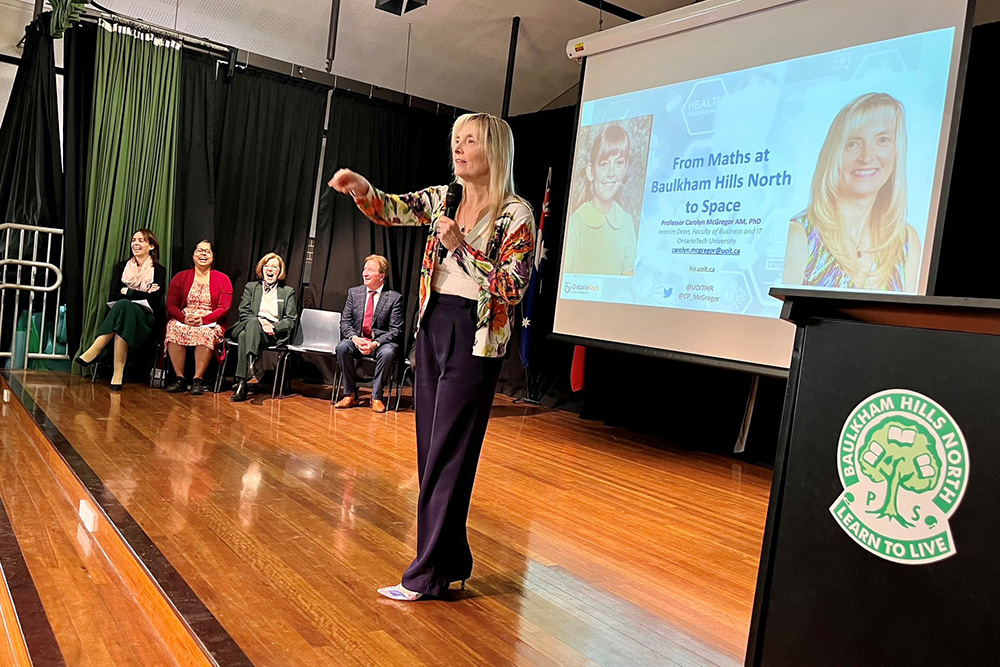 It may be more than 15,000 kilometres away from Oshawa, Ontario, but Baulkham Hills North Public School in New South Wales, Australia is very close to home for Ontario Tech University researcher Dr. Carolyn McGregor. In fact, for the Faculty of Business and Information Technology (FBIT) Professor and Interim Dean, Baulkham Hills North is home: it's where she attended primary school.
It was at Baulkham Hills that a young Carolyn McGregor developed incredible proficiency in, and a lifelong passion for, mathematics. She led her class in math in those days, and those abilities propelled her to become the first in her family to go to university. It led to a Bachelor of Applied Science in Computer Science at the nearby University of Technology in Sydney (UTS). She went on to earn a PhD at UTS.
Math and its capacity to help find key solutions to critical scientific problems is at the crux of the work Dr. McGregor does as a leading international expert in health informatics at Ontario Tech, where she joined FBIT as Canada Research Chair in 2007. Today at the university she is Research Chair in Artificial Intelligence (AI) for Health and Wellness, and the Director of the Joint Research Centre in AI for Health and Wellness (shared between Ontario Tech and UTS).
Through the power of deploying big data to help health care experts obtain super-accurate 24/7 analytics in real-time, her research trajectory has evolved from neonatal intensive care to working on Canada Space Agency-funded research with NASA to better-understand the physiology of astronauts.
Over the years she has shared her expertise and worked with government committees in Canada, Australia, France and Germany. She's been honoured numerous times in Canada and abroad for her research achievements. In 2014 she was awarded the prestigious Membership in the Order of Australia (AM) by her homeland for significant service to science and innovation through health-care information systems.
On July 31, Dr. McGregor rekindled some childhood memories during a special homecoming visit to Baulkham Hills North, to inspire students of the next generation. Her talk, entitled 'From Maths at Baulkham Hills North to Space', will hopefully unlock the interests of current students to also follow their academic dreams in the years ahead.
Related link
Gallery