Ontario Tech's commitment to sustainable practices earns national Fair Trade Campus Designation
Fairtrade ensures greater equity in international commerce and contributes to sustainable development
October 27, 2023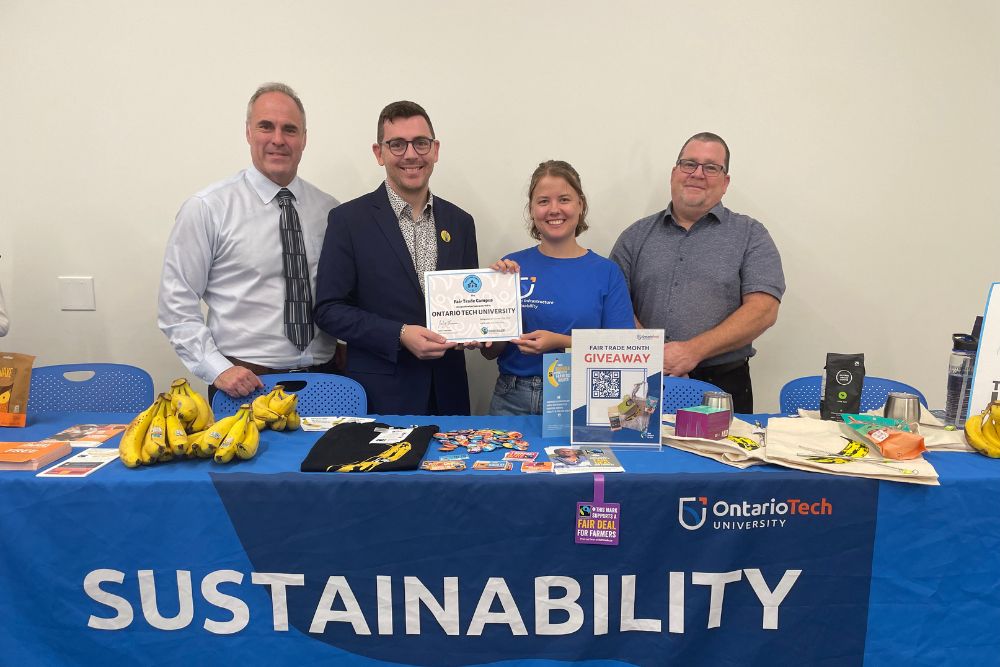 Ontario Tech University is proud to have been awarded a Fair Trade Campus Designation by Fairtrade Canada, in recognition of the institution's dedication to promoting fairtrade practices and sustainability on campus.
The official designation was celebrated at an event on October 25 in Shawenjigewining Hall where fairtrade refreshments were served during a webinar titled A Conversation with the Next Generation of Farmers. Participants heard directly from international farmers, including Ana Polo Aguilar, a banana farmer from Ecuador; Felix Tetteh, a cocoa farmer from Ghana; and Zuly Granados, a coffee farmer from Guatemala, who shared their visions for a future where people and the planet are respected.
The webinar also touched on the global challenges of climate change, inflation, and the future of agriculture, giving attendees a unique perspective on the individuals who contribute to the production of their favourite products.
Ontario Tech University's Office of Campus Infrastructure and Sustainability (OCIS) has taken significant steps towards embracing and promoting fairtrade practices on campus. OCIS has established a fairtrade committee to ensure vendors on campus offer fairtrade products, including tea, coffee, chocolates and baked goods, and by hosting events like Fair Trade Week and Sustainability Fest.
Ontario Tech's commitment to purchasing fairtrade products aligns with its mission of sustainability and contributes to achieving the United Nations' Sustainable Development Goals, including those related to poverty reduction, gender equality, and economic growth.
Through educational opportunities, engagement of faculty members, staff and students, and the integration of fairtrade products on campus, Ontario Tech seeks to raise awareness and empower our campus community to make ethical choices. The Fair Trade Campus Designation demonstrates the university's dedication to social responsibility and aims to inspire others to join us in creating a more sustainable future.
For more information, please visit Ontario Tech University's Fair Trade Campus page.
Fairtrade products found at on-campus dining locations:
Quote
"Fairtrade is important because it directly supports the farmers that grew the crops we eat and the clothes we wear. Every time you purchase something, you vote with your dollar. Supporting companies that are fairtrade-certified puts money back into communities which allows farmers to achieve livable wages and support their local economy. Ontario Tech's fairtrade designation is a big step towards social justice on campus and we plan on continuing to be mindful of what companies we procure from."
- Isabel Savransky, Asset and Sustainability Planner, Office of Campus Infrastructure and Sustainability
Gallery