Campus winter weather procedures
November 7, 2023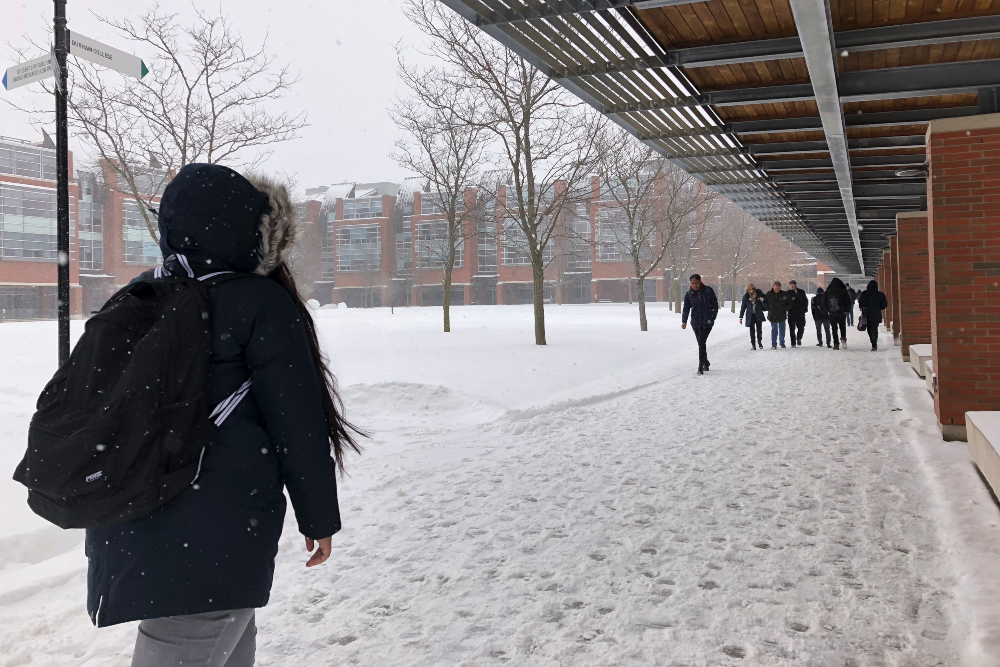 Each winter in Ontario, weather conditions such as heavy snow, freezing rain and/or ice pellets can make basic travel difficult. During such situations, questions often arise about whether campus operations will change.
During most winter weather, the campus remains open and activities remain unaffected. It's important to keep in mind that different organizations—public and private—follow their own protocols and best practices. When they make the decision to cancel operations or to close, please remember that university operations and activities may remain scheduled as normal.
How the university communicates weather-related operational changes
If operational changes are implemented due to a winter storm warning or inclement weather, the university will issue information as soon as possible using email, social media channels and the Ontario Tech mobile app as quickly as possible.
Depending on the situation, the university will also:
Post full information about the campus status on the university's Service Disruptions page and home page.
Communicate via other means as needed, including messages sent to Ontario Tech student, faculty and staff email addresses, and on-campus digital signage.
Forward official university messages to regional newspapers and radio/television stations.
Travelling to campus
Please check your Ontario Tech email and monitor the university's mobile app, social media channels and website for late-evening and early-morning updates on severe winter weather days or for class cancellations.
If you are travelling to or from campus, allow for plenty of time, and travel with due caution and care, especially if you are in an area heavily affected by the weather. If you are in an area heavily affected by the weather and cannot get to campus, contact your supervisor or professor regarding your absence. 
Students, faculty and staff are reminded they are responsible for determining when weather conditions make their travel unsafe.
If you observe a snow or ice hazard on campus, report it to Campus Security at ext. 2400 or 905.721.3211 and provide the exact location and situation.
Helpful internal links
Helpful external links