Ontario Tech University Building Promises leading-edge Research in Clean and Green Energy
ERC made possible through $45.4-million Knowledge Infrastructure Program investment
November 28, 2011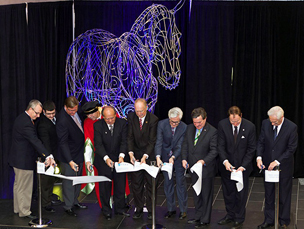 OSHAWA, ON – In front of a large gathering of distinguished guests that included government leaders, industry partners, faculty, staff and students, Ontario Tech University officially opened the spectacular Energy Systems and Nuclear Science Research Centre (ERC). The 9,290 square-metre facility is the premier training ground for future energy scientists and nuclear engineers and houses Ontario Tech University's unique-in-Canada engineering programs and research in geothermal, hydraulic, hydrogen, natural gas, nuclear, solar and wind energy technologies (ERC backgrounder).
"ERC's cutting-edge facilities will allow Ontario Tech University's highly regarded professors to advance innovative research of the highest quality in clean and green energy technologies – research that is vital for sustainable economic growth," said Dr. Tim McTiernan, Ontario Tech University president and vice-chancellor. "ERC will attract new researchers and new students to UOIT, lead to the creation of new knowledge and new intellectual property, and also promote Canada's entrepreneurial advantage through public-private research and commercialization partnerships."
ERC is the result of a joint $45.4-million investment from both the federal and provincial governments as part of the Knowledge Infrastructure Program (KIP). Construction commenced in November 2009 and was completed in August 2011.
"Our Government has invested in innovation and knowledge infrastructure to set the foundation for economic prosperity," said The Honourable Jim Flaherty, Federal Finance Minister and Whitby-Oshawa MP. "This project has not only created jobs for people in our community, but it also provides infrastructure that will benefit Ontario Tech University and the clean energy research and development sector for years to come."
"Ontario's investment in Ontario Tech University's Energy Systems and Nuclear Science Research Centre is an investment in knowledge infrastructure and industry which is vital to Canada's future economic growth," said Joe Dickson, Ajax-Pickering MPP. "ERC's state of the art facilities will give Ontario Tech University professors the superior resources they need to further their research in clean and green energy technologies. Our government's support for this project has created 315 jobs and will help to attract some of the best and brightest minds in the world."
ERC is strategically located in Durham Region, Ontario's energy capital, which is home to ten nuclear generating units. Durham Region has only 4.7 per cent of Ontario's population, but it produces more than 30 per cent of the energy consumed in the province.
"Sustainability is the overarching principle that guides our Region's strategic plan, so the opening of the ERC is a key piece of the puzzle as we continue to position Durham as an emerging power and leader in the energy sector," said Roger Anderson, Chair and CEO of the Regional Municipality of Durham. "The clean energy research conducted at Ontario Tech University will encourage new industry collaboration and spawn enhanced economic activity that will strengthen our community and benefit the environment in the long term"
"We are extremely proud of the close relationship we enjoy with Ontario Tech University and know that the research conducted in the ERC will help ensure that Oshawa continues to be a national leader in economic growth," said John Henry, Mayor of Oshawa. "Ontario Tech University's mission meshes perfectly with the City's Sustainability Strategy: ReThink, ReTool, ReNew. The innovation generated in the ERC will help us identify and explore new opportunities for growth in the realm of sustainable energy."
Ontario Tech University enjoys a close relationship with industry partners in provincial, national and international programs including: Atomic Energy of Canada Limited, Bruce Power, Cameco Corporation, Canadian Nuclear Safety Commission, Ontario Power Generation and SNC-Lavalin. ERC will also be home to Ontario Tech University's recently announced Jeffrey S. Boyce research chair in Natural Gas as an Alternative Transportation Fuel. The research chair was made possible thanks to a $1.5-million donation in June 2011 from Jeffrey Boyce, Chair and Chief Executive Officer of Calgary, Alberta-based Sure Energy Inc. The donation represents the largest gift Ontario Tech University has received from an individual.
"I am passionate about energy, the environment and education and the potential for natural gas as an alternative transportation fuel," said Boyce. "Great research infrastructure like the ERC is what is needed to help generate new ideas and turn vision into reality in the years and decades ahead."
In addition to providing administrative space and offices for staff and faculty, ERC's extensive network of teaching and research labs feature various configurations and are multimedia capable. ERC features a glass-covered four-storey Atrium, a 72-seat lecture theatre, three 50-seat classrooms, two 30-seat tutorial rooms with flexible seating, 12 labs, 11 student-study breakout rooms, and dedicated working stations for graduate students. The state-of-the-art laboratories support the Cameco Research Chair in Nuclear Fuels and Ontario Tech University's membership in the University Network of Excellence in Nuclear Engineering.
The event also featured the unveiling of a remarkable sculpture by local artist, Geordie Lishman, aptly named, True Power. Lishman believes the ERC is the ideal home for True Power. The sculpture was inspired by his interest in sustainability, the production of energy both seen and unseen, and by legendary Canadian sports hero and thoroughbred racing icon Northern Dancer, whose final resting place is located just north of the university at Windfields Farm.
The installation of True Power at Ontario Tech University was made possible through the generosity of 21 local individuals, families and organizations that support placing art in public places to promote a creative community and economy. True Power is the first major art installation of its kind in Durham Region sponsored by the community, for the community.
---
About Ontario Tech University
A modern, forwarding-thinking university, Ontario Tech advances the discovery and application of knowledge to accelerate economic growth, regional development and social innovation. We inspire and equip our students and our graduates to make a positive impact in a tech-focused world. For us, it's not only about developing the next tech breakthrough. Understanding and integrating the social and ethical implications of technology differentiates us as university. Learn more at ontariotechu.ca.
---
Media contact
Bryan Oliver
Communications and Marketing
Ontario Tech University
905.721.8668 ext. 2209
bryan.oliver@ontariotechu.ca