Job Fair connects students with employers
February 27, 2012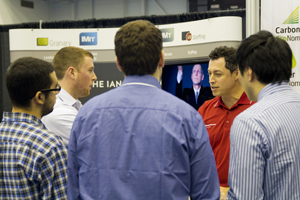 It's a task more daunting for students than a final exam – finding a job. It can be an equally difficult task for employers – finding job-ready graduates who have the skills required to excel in the 21st century workplace.
One of the best strategies for employers beginning their search for new workers is to go right to the source – on campus, to meet with students face-to-face. Each year UOIT's Student Experience Centre (SEC) teams up with the Career Service department at Durham College to host a Job Fair – a crucial avenue for hundreds of students to connect with prospective employers. This year's full-day event at the Campus Recreation and Wellness Centre saw 61 employers offering various opportunities and advice to students.
"The Job Fair has become an integral part of the student experience," said Monica Aggarwal, manager, Career Services, SEC. "It's a supportive way to help students get out there and network first-hand with employers. They can meet with organizational representatives from their field of study to broaden their understanding and begin efforts to get that first job – possibly even before they graduate."
Each year the number of organizations attending the fair keeps growing, as does as the number of students using the event as their access to work in their field. The Job Fair is a full-campus event that encourages attendance from students at both UOIT and Durham College.
For more information about career services at UOIT, please visit the Student Experience Centre portal.