Apply now for 30% Off Ontario Tuition grant. Deadline is March 31!
March 10, 2012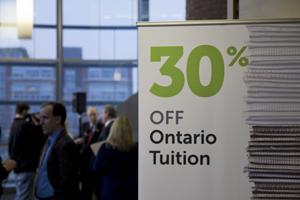 You could be eligible for an $800 grant this term. 
Join your friends and apply for the new grant worth up to 30 per cent of average undergraduate university tuition.  
Students who receive OSAP don't need to do anything – they have been automatically considered for the grant. 
Once you've completed your application, print the declaration and signature pages that you and your parents need to sign. Mail or fax the signed pages to:
Student Financial Assistance Branch
Ministry of Training, Colleges and Universities
P.O. Box 4500
189 Red River Road, Fourth floor
Thunder Bay, ON P7B 6G9
Fax:  807.343.7551 or 807.343.7278
If you have completed the application and want to check your status simply log in to your account. It will let you know if there is any missing information, how much money you are getting (or already received), the method of payment, and any other pertinent information.
For more information, click http://www.ontario.ca/30off.  You can also call the tuition grant hotline at 1.888.449.4478.