UOIT computer science student named finalist for prestigious Google scholarship
May 11, 2012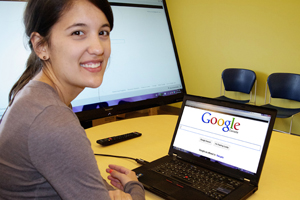 Congratulations to Brittany Kondo, a fourth-year Faculty of Science student selected as a finalist for the Google Anita Borg Memorial Scholarship. Kondo will graduate in June and then fly to Google's headquarters in Mountain View, California for a networking retreat with other female post-secondary students from around the world. The retreat will feature workshops, guest speakers, panelists, breakout sessions and social activities.
Google created the scholarship in honour of Dr. Anita Borg, an American computer scientist who pushed to open more opportunities for women in the computing and technology field. Google hopes to encourage more women around the world to pursue computer sciences by offering the scholarship to female university students.
"I am very proud of Brittany's achievements," said Dr. Christopher Collins, assistant professor, Computer Science, Faculty of Science and SHARCnet Research Chair at UOIT. "Being selected as a finalist for this award is a significant achievement, especially since she is the first UOIT student to be chosen. She's worked very hard and has definitely been a standout in my class."
Kondo will return to UOIT in the fall to pursue her master's degree in Computer Science and work with Dr. Collins as a research assistant.