Apply now for Ontario Tuition grant
August 22, 2012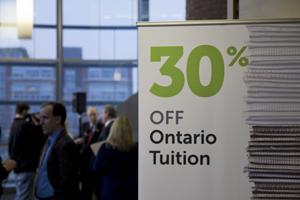 You could be eligible to get 30 per cent off your university tuition this fall.
Students can now apply for the new grant worth up to 30 per cent of average undergraduate university and college tuition. Students who receive Ontario Student Assistance Program (OSAP) don't need to do anything – they will be automatically considered for the grant. 
Eligibility criteria:
You're a resident of Ontario;
You're a full-time student at an Ontario public college or university;
It's been less than four years since you left high school;
You're in a program that you can apply to directly from high school; and
Your parents' gross income for 2011 is $160,000 or less.
Don't delay – apply now at www.Ontario.ca/30off.
Go to apply now and register for an OSAP Access Number;
Submit the online application form;
Print the signature page for your parent(s) to sign;
Submit the signed page to the Student Awards and Financial Aid office;
If eligible you will receive the grant for your first term after your enrolment is confirmed in September and for the second term in January; and
You only need to apply once to receive the grant for two terms.
Need more financial help?
Paying for college or university may be easier than you think. OSAP offers a range of grants, bursaries and student loans.
Visit www.Ontario.ca/OSAP for more information or call the tuition grant hotline at 1.888.449.4478.