Call for nominations for undergraduate student positions on Academic Council
September 14, 2012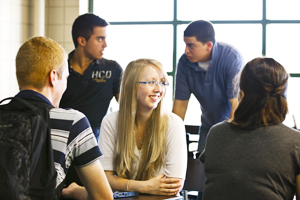 UOIT undergraduate students are invited to submit nominations for Academic Council student representative positions.
Five (5) positions are available:
Academic Council (one position);
Academic Appeals Committee (two positions);
Curriculum and Program Review Committee (one position); and
Honorary Degrees Committee (one position).
All positions carry a two-year term, concluding on August 31, 2014.
The Academic Council is the highest academic body in the university and is composed of faculty, students, staff and senior administrators. The committees that report to it are responsible for a wide range of academic matters, including the creation of degree programs; the approval of the contents and curricula of all courses of study; the awarding of scholarships and other awards for academic achievement; the review of academic appeals; and the selection of honorary degree recipients. For more information, please visit the Academic council website.
Nominations
To be eligible for nomination, candidates must be full-time registered students at UOIT in good academic standing.  All nominees must be available to attend all meetings of the governing body to which they are elected and be willing to support that body's decision to the best of their abilities.
Nominations must be accompanied by a declaration by the nominee that s/he is a full-time student at UOIT in good academic standing and that s/he accepts the terms and conditions of the nomination.
Nomination forms are available on the UOIT Academic Council website or by clicking on the following links:
Candidates are required to submit a biographical statement for publication purposes when they submit their nomination and declaration forms. Candidate statements are limited to 100 words and statements that exceed the limit will not be accepted. Statements should be submitted by email to ACmeetings@uoit.ca. Statements will be posted on the Academic Council website until the day after the election. 
Completed nomination forms, along with the nominees' declaration forms and candidate statements, must be submitted to the Office of the Provost, Energy Systems and Nuclear Science Research Centre, Room 3030 by 4 p.m. on Friday September 21, 2012. For specific information about the election process, please visit the Election Procedures web page.
Voting process
Voting will place through an online, confidential process from Wednesday, September 26 at 9 a.m. until Thursday, September 27 at 4 p.m. Provisions are available for students who are unable to vote online. Please note: only current UOIT undergraduate students are eligible to vote in the Academic Council elections.
A voting reminder email will be distributed to students via MyCampus on Tuesday, September 25 with a link to the election web page. Election results will be posted on the Academic Council website the day after the voting period closes.
General information is also available on the Academic Council website. For specific inquiries, please contact Vivianne Sharpe, senior executive assistant, Office of the Provost, at 905.721.8668 ext. 5467.