Women's hockey program skates into OUA playoffs for first time
February 4, 2013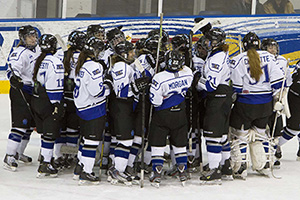 The UOIT women's hockey team has fulfilled a long-awaited goal – qualifying for the Ontario University Athletics (OUA) playoffs for the first time in the program's six-year history.
The milestone came when the Ridgebacks posted a 4-2 victory over the Ryerson Rams at the Mattamy Athletic Centre at the Gardens in Toronto last Saturday.
Game highlights: UOIT at Ryerson
The women's hockey program joins the women's soccer team as a playoff squad, marking the first time two UOIT sports have qualified for the OUA playoffs in the same year. The women's hockey team has also set a new program mark for points during the regular season, with two games still to play.
UOIT concludes the regular season this weekend with home games against the Western Mustangs (Saturday, February 9 at 3:30 p.m.) and Windsor Lancers (Sunday, February 10 at 3:30 p.m.) at the Campus Ice Centre.
Visit the UOIT Ridgebacks website for OUA playoff information and scheduling as it becomes available.