UOIT student project supports employment-related initiatives in Durham Region
June 12, 2013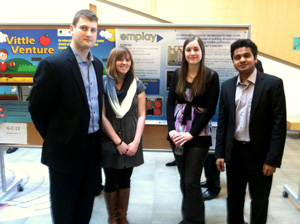 As part of its commitment to ensuring students are job-ready and achieve their greatest personal potential, the University of Ontario Institute of Technology (UOIT) integrates its curriculum with relevant, hands-on learning experiences to apply their knowledge. One such opportunity in the Faculty of Business and Information Technology (FBIT) is the Capstone study project, where a student team is matched with an organization to complete a comprehensive analysis and evaluation of real-world problem, and find or propose solutions.
A recent Capstone project by FBIT students has helped the Durham Region Unemployed Help Centre develop a new, interactive youth-oriented employment game called emplay. 
Fourth-year Game Development and Entrepreneurship students Sedona Parnham and Lindsay Mikula teamed up with fourth-year Commerce students Steve Spade and Aaraniyan Vive to create emplay, which is designed to help youth understand the importance of determining and following a well-researched employment plan and discovering career pathways.
The UOIT students also drew upon on the expertise of Christopher Couch, a guidance counsellor at R.S. McLaughlin Collegiate and Vocational Institute in Oshawa, Ontario and staff at the Durham Region Unemployed Help Centre.
Emplay was recently nominated for a $5,000 Capstone award and received praise from an educational and technological perspective at Level Up 2013, a showcase of Ontario's student game design talent. Level Up 2013 featured more than 50 game projects from 12 participating institutions, including UOIT.
The Durham Region Unemployed Help Centre also featured emplay in a recent edition of its e-newsletter. Now that the initial Capstone project is complete, the centre is seeking opportunities to advance the game through research and development.