UOIT's new Kinesiology Teaching Laboratory offers students high-tech practical learning experiences
November 18, 2013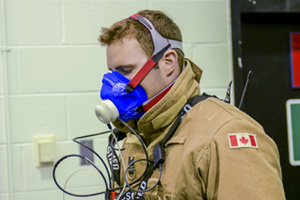 Kinesiology students at the University of Ontario Institute of Technology (UOIT) now have more opportunities for applied learning with the opening of the Faculty of Health Sciences' (FHS) new Kinesiology Teaching Laboratory.
"This is an incredibly exciting event for us," said Dr. Ellen Vogel, Dean, FHS. "We are pleased to celebrate this beautiful new teaching space, which will provide our Kinesiology students with hands-on exposure to current measurement techniques in an increasingly important field in health care. This laboratory is a great example of the emphasis on experiential learning and applied research opportunities for both undergraduate and graduate students at the University of Ontario Institute of Technology." 
The official ribbon-cutting ceremony on November 14 offered government representatives, industry partners, and UOIT faculty, staff and students a chance to tour the new interactive space and view demonstrations of the state-of-the-art kinesiology equipment. The event was held in conjunction with the Association of Universities and Colleges of Canada's Open Doors, Open Knowledge 2013: Community Engagement initiative, which showcases and celebrates campus-community engagement.
"As a Kinesiology graduate and a graduate of the Canadian Memorial Chiropractic College (CMCC), I am very happy with the opening of this new lab at UOIT," stated Dr. Carrie, Oshawa MP and Parliamentary Secretary to the Minister for the Environment. "This new lab is a symbol of what innovative partnerships can achieve and will only add to UOIT's already excellent reputation and its ability to shape and serve Oshawa and Durham Region." 
In the lab, students learn to collect data and participate in a wide range of experiments.
"This strong practical component greatly enhances the quality and depth of our students' experiences," said Dr. Bernadette Murphy, Professor and Kinesiology Lead, FHS. "The new lab ensures UOIT Kinesiology students will gain more hands-on skills and understand how theory and practice connect."
Kinesiology graduate students in the Master of Health Science in Kinesiology and PhD in Applied Bioscience programs are currently conducting research in areas such as:
the benefit of motor-skills training programs for children with developmental disabilities
the importance of understanding arm biomechanics in injury prevention and ergonomics
the effect of chronic low-level neck pain on arm function
how to use exercise to improve health in elderly and asthmatic populations 
the role of exercise in enhancing brain function in both depressed and healthy individuals
the development of serious games to improve decision-making under stress and to decrease injury rates in firefighters
Kinesiology is an inter- and multi-disciplinary field of study focusing on understanding human movement and applying this knowledge to optimize performance and quality of life across an individual's lifespan. In Ontario, kinesiology is now a registered health profession and many UOIT students plan to work in the field upon graduation, while others plan to apply to medicine, physiotherapy, occupational therapy or chiropractic. 
UOIT's Kinesiology major has three streams:
Health and Wellness, for students with an interest in health policy or promotion around exercise for health.
Exercise Science, for students interested in exercise physiology, exercise rehabilitation or human neurophysiology.
Rehabilitation, which represents a unique opportunity through an articulation agreement with the Canadian Memorial Chiropractic College (CMCC) whereby students are able to obtain both their UOIT and CMCC degrees in seven years instead of eight. Up to 25 students are selected into this stream and at least 10 are guaranteed admission to CMCC after three years.
There are currently 352 students enrolled in UOIT's Kinesiology program and 42 students in the Fitness and Health Promotion diploma-to-degree bridge program.