Jian Ghomeshi speaks at second-annual UOIT Leadership Summit Weekend
February 3, 2014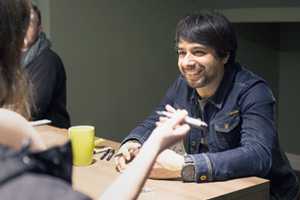 Jian Ghomeshi, award-winning broadcaster, writer, musician, producer and activist, entertained more than 200 students, alumni, faculty, staff of the University of Ontario Institute of Technology (UOIT) and members of the community on January 24 with a presentation about his leadership journey. Ghomeshi's keynote kicked off the second-annual Leadership Summit Weekend hosted by the university's Student Experience Centre (SEC).
Ghomeshi recounted his own leadership experiences and spoke about the importance of taking risks when exploring leadership potential. He also took questions from the audience and signed copies of his national bestselling book, 1982. Admission was free but attendees were asked to bring a non-perishable food item for the Campus Food Centre.
The summit continued on January 25 with students attending a full day of leadership programming that further encouraged them to challenge and transform definitions of leadership. Participants had the opportunity to:
analyze various team dynamics when leading a group
define their own leadership mantra and explore their leadership strengths
develop connections between their personal leadership beliefs and possible volunteer and  career opportunities
explore their Myers-Briggs Type Inventory preference profile
The SEC looks forward to building upon the success of this event and continuing to provide leadership programming for UOIT students.