Students showcase thesis studies at sixth-annual Forensic Science Research Day
April 30, 2014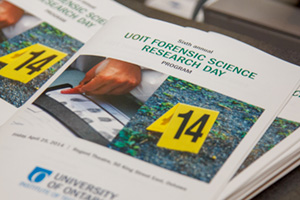 The stage was dark and dusty. The seats were bolted to nothing but the concrete floor, the only carpeting being the aisle runners. A draft seemed to come from every direction of the old building. Looking up to the ceiling, the gold and blue paint surrounding the chandelier was reminiscent of the scene from another tragedy where forensics was used - one that took place so many years ago at the Paris Opera House. The Regent Theatre truly is a fitting location for University of Ontario Institute of Technology (UOIT) Forensic Science students to showcase their thesis work.
Hosted by the Faculty of Science (FSci), the sixth-annual Forensic Science Research Day allowed fourth-year students to take to the stage on April 25 and display their research thesis projects to a theatre full of their peers, faculty, family and friends. Though nerves were high, the quality of work displayed was tremendous.
"I want to congratulate you all on the outstanding work you've displayed," said Dr. Deborah Saucier, Provost and Vice-President, Academic. "Recently, the Forensic Science program received the prestigious Forensic Education Programs Accreditation Commission (FEPAC) from the American Academy of Forensic Sciences. Thank you to the students, faculty and advisors for being shining examples of why this program is so deserving of this accreditation. You have all done an exceptional job."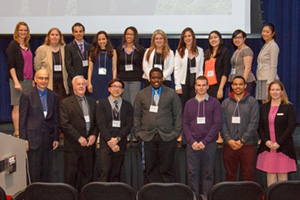 Ten fourth-year students took the stage to display their research thesis projects to a theatre full of peers, faculty, family and friends.
There were 10 presenters this year, whose projects included:
The Effects of Fingerprint Enhancement on Presumptive Testing of Blood
The Effects of Extreme Temperatures Due to Fire on Presumptive and Confirmatory Testing of Biological Fluids
The Effects of Acetaminophen on the Development Rate of L. Sericata
A Potential Approach for Reducing the Occurrence of Wrongful Convictions Through Juror Education on Forensic Evidence
However, not all the presenters were from the Forensic Science program. Kimberly Nugent, Senior Lecturer and Lab Co-ordinator, Forensic Science, said the faculty recognizes the transferability of skills within the different programs. 
For example, Taurean Scantlebury, a Computer Science student specializing in Digital Forensics, presented his web-based visualization tool called SentimentState, which performs a sentiment analysis on people's tweets. He hopes law agencies will be able to use the data collected to gauge a person's emotional state.
SentimentState analyzes a user's tweets based on 10 emotions:
positive
negative
anger
anticipation
disgust
fear
joy
sadness
surprise
trust
It creates an interactive timeline graph of the user's emotional state. Emotions can also be isolated to focus on just the negative or positive. Scantlebury says SentimentState is still in the research stage because it can't recognize sarcasm, and currently it can only be accessed on the UOIT network, though he is working on that problem.