International honours for UOIT Engineering students
October 27, 2014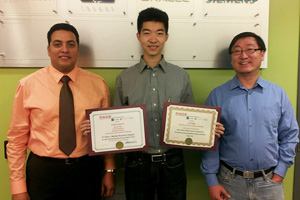 The University of Ontario Institute of Technology's (UOIT) Faculty of Engineering and Applied Science (FEAS) proudly announces international recognition for two of its undergraduate Engineering students.
At the 2014 Partners for the Advancement of Collaborative Engineering Education (PACE) Global Forum held at the Politecnico di Torino in Turin, Italy, Mechanical Engineering student Xu (Mike) Zhang and Automotive Engineering student Christopher Janotta, both in their fourth year, were awarded for excellence for their project Design and development of a portable assisted mobility device (PAMD). A PAMD is a vehicle used in conjunction with public or private transportation.
This marks the second consecutive year UOIT students have won an international PACE award. Zhang and Janotta were supervised by Dr. Atef Mohany, Assistant Professor, and Dr. Yuelei Yang, Senior Lecturer, FEAS.
"We are thrilled to see our students to gain such distinction for their innovative ideas and creativity," said Dr. Mohany. "Our students gain outstanding hands-on learning opportunities and teamwork skills through participation in capstone design projects. They will also be highly sought by employers for their leadership skills."
Both UOIT students also collaborated on their project with teammates from McMaster University in Hamilton, Ontario; Instituto Tecnológico y de Estudios Superiores de Monterrey (ITESM) in Monterrey, Mexico; and ITESM in Toluca, Mexico.
Gallery