University of Ontario Institute of Technology and Durham College create more opportunities for international students
October 28, 2014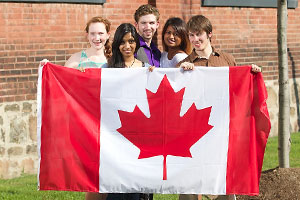 A new pathways program agreement between the University of Ontario Institute of Technology (UOIT) and Durham College (DC) will provide international students with greater access to opportunities to obtain their diploma and an undergraduate degree in less than the traditional amount of time.
The Pathways Program Agreement on International Student Recruitment, signed by both institutions on September 25, will see eligible international students who apply to DC receive a Letter of Admission (LOA) indicating that when they complete their college studies, they will be eligible to directly enrol into a relevant UOIT undergraduate program with advanced standing.
"This Pathways agreement further strengthens our partnership with Durham College and our collective commitment to providing seamless access to high-quality, industry-driven and career-oriented programs," said Dr. Michael Owen, Vice-President, Research, Innovation and International. "The University of Ontario Institute of Technology is proud to partner with Durham College to offer this unique post-secondary education opportunity to students from around the world."
The new agreement will take effect as of the 2014-2015 undergraduate recruitment cycle with the university and college working closely to facilitate international student recruitment across both institutions. Applicants must successfully complete an applicable program at Durham College and meet all academic requirements during the applicable admissions cycle with specific enrolment restrictions and program capacities discussed between the university and the college on an annual basis.
"This new agreement reflects the shared commitment of DC and UOIT to provide all students with access to the most comprehensive post-secondary education possible", said Nevzat Gurmen, Vice-President, Corporate Services and Chief Financial Officer, DC. "DC's international student population, more than 450 students strong as of fall 2014, continues to grow and we look forward to working with UOIT to provide new international applicants with access to academic pathways that will enable them to earn both a diploma and a degree in several different areas right here in Durham Region."
There are currently more than
60 academic pathway opportunities
in place between UOIT and DC including credit transfer, bridging, direct-entry and post-graduate programs in areas including arts, business, health, justice and more.