Ontario Tech University's Dr. Hamid Akbari creates innovative carpooling app for commuters
December 15, 2014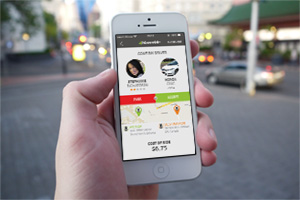 Fuel and insurance costs, parking fees, vehicle upkeep, traffic congestion, weather conditions and sheer time spent on the road. No matter how you slice it, commuting by car in the GTA tests every driver's patience. And it certainly takes a toll on the pocketbook.
One way motorists can get around the financial roadblock of commuting is to share costs by setting up a carpool. But even getting a carpool off the ground can be a trying task: how do you find people who are going where you are? How do you know where to meet someone? What if schedules change?
"We examined all of these questions and looked for a way to create an app-based tech solution to tackle the challenges that prevent carpooling," said Dr. Hamid Akbari, Assistant Professor, Faculty of Business and Information Technology (FBIT) at the Ontario Tech University. "Our answer is Blancride: an innovative carpooling platform that matches passengers with drivers who share the same travel needs."
Blancride works through smartphones as a customized message-board. It automatically balances the costs of each trip between each passenger and driver, simplifying the financial transaction and lowering the cost of each individual's trip. Blancride takes a small fee for performing the service.
"Passengers who use Blancride are sharing costs with the driver. Our cost-sharing platform is designed to be an affordable, commuter-friendly option, or to complement public transit. Costs for passengers are often comparable to public transit and significantly cheaper than a taxi."
Blancride is completely different from taxi services, which take direction from the passenger on the final destination and receive payment for that service. With Blancride, drivers don't make a profit: they only share their costs for the route they already intend to drive. Prices are calculated with a cost-per-kilometer amount, which lets passengers and drivers know the full cost of the trip before taking the ride.
Blancride runs on iPhones and Androids and is accessible 24/7. As a new ride is offered or requested, the system calculates the appropriate matches and notifies the matched users.
"If you use the app to tell us where you are going, then we'll show you who you can share that ride with. We encourage all drivers to post their planned rides because this helps people get around, day or night."
After working on the concept and design, Dr. Akbari reached out to his global network to build a team that shared his passion. The team is comprised of more than 30 individuals from North America, South America and Europe, and 13 Ontario Tech University students and alumni. He also partnered with Spark Innovation Centre to help Blancride open its doors and start growing as a company. More recently, Blancride was accepted to the Faculty of Business and Information Technology incubator, a for-credit program that promotes student entrepreneurship at Ontario Tech University and helps the university's tech-startups grow and become globally successful.
With the support of his faculty's incubator, as well as his Dean, Dr. Pamela Ritchie, and Associate Dean Steve Rose, Dr. Akbari's Blancride app was launched in November 2014. The app is available currently only to students, staff and faculty at Ontario Tech University and Durham College, but Dr. Akbari is encouraged that in Blancride's first two weeks, 470 people signed up with about one-third being drivers.
"New carpooling lanes are being built all the time, so we know governments at all levels are committed to supporting carpooling," said Dr. Akbari. "Blancride makes carpooling easy. We know there's always going to be a market for affordable transportation. We've uncovered a great new way to match supply with demand."  
Related links
---
Media contact
Bryan Oliver
Communications and Marketing
Ontario Tech University
905.721.8668, ext 6709
bryan.oliver@ontariotechu.ca