FSSH students showcase their Practicum experiences at poster event
January 22, 2015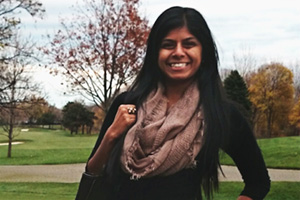 Thirty-five fourth-year University of Ontario Institute of Technology (UOIT) Faculty of Social Science and Humanities (FSSH) Practicum students recently had the opportunity to educate others about their placement experience and its relationship to their academic studies at the inaugural FSSH Practicum Poster Day.
For their Practicums, Communication students Subhanki Sivakumar and Nabeelah Islam developed a communications and social media strategy for the Scarborough Centre for Healthy Communities. Their responsibilities included:
Attending board and town hall meetings.
Conducting Social Media 101 presentations.
Writing articles for newsletters, and letters to donors.
"Through the Practicum you develop this strong sense of accountability because you're representing both yourself and the school," said Sivakumar. "Often, you will take what you just learned in class that week, and apply it in your job. Every moment turns into a learning opportunity."

"This was a chance for me to develop lots of independence and interpersonal skills," added Islam. "I feel like it really prepared me for the real world."
Project Restore Families Impacted By Incarceration (FIBI) was one of the community partners featured at the event. The organization facilitates the restoration of families impacted by incarceration through:
one-on-one support for individual family members
effective resources and programs
individual and group counseling
mentorship
workshops
special events
In January 2014, Project Restore FIBI received its first two Practicum students. At the time, Aisha Francis, Executive Director, was trying to establish the organization while working another full-time job. The students conducted research and looked at potential sources of funding.
"Because of the work the students did, they lit a flame under me," she said. "I felt accountable to get myself in gear, and it gave me the confidence to leave my other job and officially launch Project: Restore FIBI in May 2014." Francis took in two more Practicum students during the Fall 2014 semester.
"All of the students bring something to the table, and have been instrumental in building the foundation of this organization," Francis said. "We are a team; their contributions have helped catapult FIBI to another level. It allows us to move forward quickly."
The best way for organizations to provide a good learning experience for Practicum students is to give them some autonomy.
"You might be tempted to give the students menial jobs, but you will get a better return if you allow them to take initiative and leadership, and let them spread their wings a bit."
The Practicum course includes a fieldwork component consisting of 100 hours of unpaid work completed during one academic semester, spread over approximately 13 weeks. Students who opt for a placement:
Apply what they have learned in the classroom to a real-world setting.
Develop and refine their professional skills.
Gain valuable work experience.
The poster is a visual way of communicating an original hypothesis or question that ties the student's field of study with his or her Practicum experience. It gives students the opportunity to:
Discuss the underlying issues of the question/hypothesis.
Communicate the theoretical implications of their findings.
Provide recommendations.
"The Practicum Poster Day is a fantastic opportunity for our students to showcase what they have learned and observed during their placements," said Dan Walters, Practicum Co-ordinator, FSSH. "It's also a great opportunity to highlight all of the partnerships that have been established between the University of Ontario Institute of Technology and the community."