UOIT alumnus Lorenzo Escobal quickly blazing an entrepreneurial trail
January 23, 2015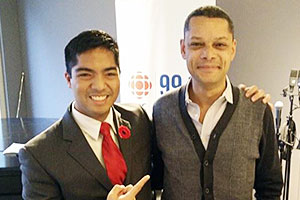 He's a member of the University of Ontario Institute of Technology's (UOIT) most-recent graduating class, but in the span of just several months, Lorenzo Escobal is making quite a name for himself. The 2014 UOIT Bachelor of Commerce (Honours) alumnus who majored in Marketing is already being recognized for his impressive accomplishments as a young and successful entrepreneur.
Shortly after beginning his undergraduate studies in UOIT's Faculty of Business and Information Technology, Escobal founded his first company. Inception Automotive Detailing (IAD) is a professional mobile automotive detailing service that now boasts more than 150 clients across the Greater Toronto Area, including such customers as Global Television and York Region Transit.
IAD travels to its clients to detail their vehicles on-location, thoroughly cleaning them to produce a showroom-quality finish. Services range from wash-and-wax to multi-stage paint polishing. On the eve of IAD's fourth anniversary, Escobal's creation received the 2014 Readers Choice Award (Silver) from the Mississauga Business Times, a well-known publication of the Metroland Media Group. While he is very proud of the recognition, he's far from ready to rest on any laurels.
"To be honest, I do not find myself successful at this time; I've reached certain milestones, but I haven't peaked," says Escobal. "Success to me will come when I have actually made a difference in people's lives: something that will leave a legacy. Entrepreneurship is about providing value to others and solving problems. It is never just about you."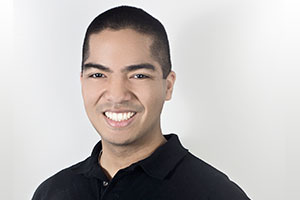 So how did Escobal become an entrepreneur while studying at UOIT?
"I tried to look for a part-time job during my first semester, mostly in retail," explains Escobal. "I applied to many places and either received a rejection or no response at all. It was discouraging. So I decided to create my own job, one that allows me to set my own schedule and also follow my passion for cars. I had no experience, and my friends were skeptical. But by my second semester, the government had approved my business licence – and Inception Automotive Detailing was up and running."
Escobal believes his UOIT program played a role in his entrepreneurial success. He applied theories taught in his classes and quickly learned that not all concepts work on every business.
"The best way to find out if a concept works is by doing it hands-on," says Escobal. "New entrepreneurs have to take risks and experiment. You will make mistakes; that is a part of the learning experience."
Escobal believes that FBIT's new incubator program will help student-entrepreneurs who share his drive and vision to be innovative and make things happen.
"A dedicated business incubation program with actual workspace and mentorship for students starting a business will provide an amazing learning experience. Who knows… maybe the future billionaires will be from UOIT."
Once an entrepreneur, always an entrepreneur: Escobal has already co-founded Medpro 3D, a medical rapid prototyping company which works with health-care professionals to transform medical scans such as magnetic resonance imaging (MRI) and computerized tomography (CT) into life-scale sized 3D tangible models.
"Not all patients easily understand the explanations of their MRI or CT scans when viewed from a printed file or on a computer screen. Medpro 3D produces an actual 3D model which will make it easier for doctors to explain medical issues to their patients by allowing them to clearly demonstrate areas in an organ that may have a problem."
Medpro 3D is conducting clinical studies with organizations and will also international later this year to consult with a private hospital in Singapore.
In addition to running IAD and Medpro 3D, Escobal is a member of Mississauga Board of Trade, is a seasoned guest speaker at the University of Ontario Institute of Technology as well as at the University of Toronto. He has managed to build a large international network and has met, or been affiliated with many politicians, business leaders and celebrities.
Gallery