Wab Kinew speaks at third-annual UOIT Leadership Summit Weekend
January 26, 2015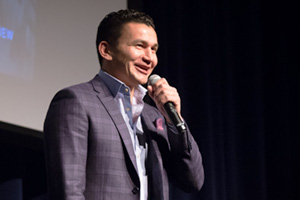 Writer, reporter and award-winning musician Wab Kinew came to campus to share his leadership experiences with more than 200 students, alumni, staff and community members at the recent 2015 Leadership Summit weekend. The event was hosted by the University of Ontario Institute of Technology's (UOIT) Student Experience Centre (SEC) at the Regent Theatre in Oshawa, Ontario.
Kinew is Associate Vice-President of Indigenous Relations at the University of Winnipeg, reporter and host for CBC Radio One Winnipeg, and host of the documentary 8th Fire. He was also named to Postmedia News' list of Nine Aboriginal movers and shakers you should know. He spoke about the leaders who have made an impact in his life and how their teachings have driven his passion for the social causes he is involved in. Participants had an opportunity to ask questions and meet with Kinew after the keynote. Food and monetary donations were also collected for the Campus Food Centre.
Throughout the remainder of the weekend, select UOIT students also had a chance to participate in two days of leadership programming, where they:
Assessed their professional leadership skills
Explored various theoretical frameworks and definitions of leadership
Met peers with similar interests
Reflected on and discussed the major themes from the keynote
Shared perspectives and applied the leadership skills they learned to develop a campaign for a social change topic of their choice
The SEC is looking forward to building upon the successes of this event and continuing to provide leadership programming for UOIT students.