Three minutes and counting… UOIT grad students gear up to share research in a national contest
February 12, 2015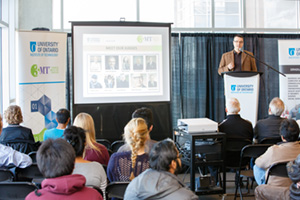 Three minutes: it's enough time to make a soft-boiled egg, fill your tank at the gas station, or perhaps heat a bag of microwave popcorn.
There are many everyday things we can all accomplish in three minutes. But would 180 seconds be enough time to tell a compelling story about complex university research… where all of the details easily make sense to a brand-new audience? It sounds like an impossible task, but that's exactly the challenge an aspiring group of graduate students at the University of Ontario Institute of Technology (UOIT) will face in the coming weeks.
Welcome to Three Minute Thesis (3MT®), an exciting university-wide competition for graduate students across Canada, where participants present their research and its wider impact in three minutes or less to a panel of non-specialist judges.
The UOIT version of 3MT® kicked off February 12. Participants will hone their presentations for the UOIT 3MT® heats on Wednesday, April 15. The selected finalists will go for glory the following day.
"The first two years of Three Minute Thesis at the University of Ontario Institute of Technology were a huge success and we look forward to welcoming another group of high-quality entrants," said Dr. Ed Waller, Interim Dean, UOIT Office of Graduate Studies. "They only get to present one static slide as a visual. The clock starts ticking and the rest is up to them."
3MT® has proven to be a unique and fun way for students to showcase their research and for universities to demonstrate the innovative and significant new knowledge being generated by graduate students in their local communities.
About 3MT®
The 3MT® competition was developed initially by the University of Queensland (Australia) in 2008. The competition has since spread internationally to include Canada. One winner from UOIT will advance to the third Ontario provincial 3MT® Competition on Thursday, April 23 at Western University in London, Ontario. Winners will advance to the Canadian national 3MT® competition in June.
3MT® event contact:
Svetlana Novak
Graduate Professional Development Co-ordinator
UOIT Office of Graduate Studies
905.721.8668, ext. 6206
svetlana.novak@uoit.ca