High honours for UOIT students at Ontario Engineering Competition
March 12, 2015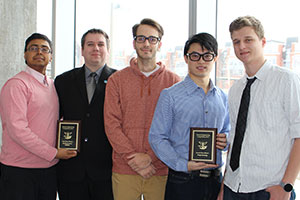 When University of Ontario Institute of Technology (UOIT) student Jonathan Anderson and his colleagues set out for the 2015 Ontario Engineering Competition (OEC) in Toronto, they had one goal in mind: becoming the first UOIT team to place in the Parliamentary Debate category of the prestigious provincial competition.
"My debate team partner Ahmad (Ami) Touseef faced a challenging road at OEC as our only previous debate experience was the internal competition at UOIT," said Anderson. "But we achieved our goal by making it to the semi-finals and ultimately placing third. It was an amazing experience, topped by the new friendships and camaraderie that developed. We got to meet and know some fantastic people who I know will change the world."
Anderson and Touseef (both second-year Electrical Engineering students) drew a tough debate topic against a team from the University of Waterloo: Should the government expand and repair roads instead of investing in public transit? They lost the coin toss and had to take the government side. The battle was passionate and hard-hitting, but after scoring on a point of order after being misquoted by the other team, they had the momentum they needed to reach the final four.
"Competitions like the debate force me out of my comfort zone and it is up to me to turn that weakness into a strength," said Anderson. "As a future engineer, I will need to be able to think quickly, give presentations, lead teams and work with others. UOIT is a unique university that offers students many opportunities for involvement and strong support and encouragement from my faculty, the Faculty of Engineering and Applied Science (FEAS)."
In the Programming category at OEC, the UOIT team of Neil Seward, Patrick Smuk, Robert Cole and Kevin Ho (all third-year Software Engineering students) finished in second place. The team was given six hours to produce a train control system to manage several trains on multiple tracks. The system had to prevent collisions by calculating trajectories and be able to issue stop commands to the trains.
"We were able to apply our programming skills learned in class and present our engineering and management skills in the design and the presentation of our solution," said Seward. "We specifically benefited from the experience of our UOIT quality assurance and design courses, which have taught us to produce on-time solutions to complex, real-world problems."
"We are very proud of the success of our students at OEC and their collective ability to devise innovative answers on challenging issues," said Dr. Qusay Mahmoud, Professor and Chair of the Department of Electrical, Computer and Software Engineering, FEAS. "The Engineering students at UOIT thrive on the opportunity for hands-on experiences like those offered through OEC and other competitions. The consistently strong results of UOIT students demonstrate that our program is helping them develop into engineers who are not only prepared to succeed, but also to be leaders among their peers."