Marigold Ford Lincoln establishes scholarship at UOIT
March 25, 2015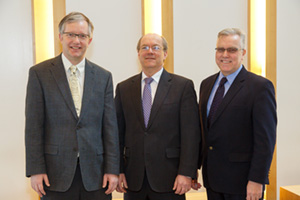 Math and science were Terry Souch's favourite subjects in school, subjects he believes are the foundation of many industries and are the core of several University of Ontario Institute of Technology's (UOIT) programs.
As a father and a business owner, Souch appreciates the value of higher education and understands how the cost can limit a student's ability to pursue their dream. That's why through his Whitby automotive dealership, Marigold Ford Lincoln, he is investing $50,000 to create scholarships for students in the Faculty of Science.
"We've been fortunate to help our own children through school and we want to pay it forward," said Souch. "These scholarships will connect students to opportunities in science and encourage them to stick with it because there's no end to what they can learn and discover."
This donation will be matched through the university's Student Success Fund, resulting in a fund of $100,000. It will create the following scholarships:
Marigold Ford Entrance Scholarships – $5,000 per year awarded to two students entering the Physics or Applied and Industrial Mathematics program.
Marigold Ford Scholarships – $2,500 per year awarded to four students enrolled in the Physics or Applied and Industrial Mathematics program.
"Marigold Ford Lincoln's contribution enables UOIT to promote passion and careers in science and math," said Dr. Greg Crawford, Dean, Faculty of Science. "Their generosity will allow young people to imagine themselves as being successful in science at the university and beyond."