Return all overdue books: You may not get your marks!
March 25, 2015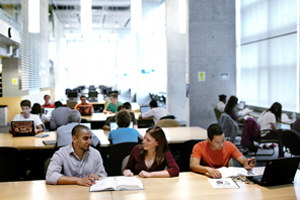 This is a reminder that the University of Ontario Institute of Technology (UOIT)  will not release your winter-term grades if you have any overdue library books or unpaid library fines. All overdue books must be returned or renewed, and all library fines paid by Friday, April 24 or your grades will not be released.
The Campus Library routinely sends out overdue and bill notices. Most notices are sent via email. The sender of these notices is Sirsi, from the email address library@uoit.ca. The library can also send out text notification for some notices. Please contact the library to verify or change your email address and/or cell phone number.
If you wish to…
Verify current library loans
Verify any outstanding fines
Renew items (not possible under certain conditions)
…you have three options:
From the library home page, select the Renewals link on the centre blue toolbar
Via phone*
In-person at any UOIT or Durham College (DC) library branch
Assessed fines can be paid by cash or cheque at any UOIT or DC library, and by credit or debit card at the North Oshawa Library.
Most borrowed material from UOIT libraries can be returned at any UOIT or DC Library in designated return locations.
*Library phone numbers:
Education Library: 905.721.8668 ext. 2976
North Oshawa Library: 905.721.3082
Social Science Library: 905.721.8668 ext. 5644