UOIT Accounting students assist community with income tax returns
March 23, 2015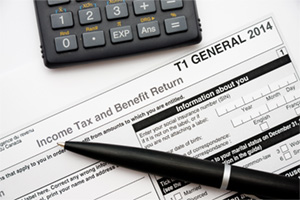 More than two dozen University of Ontario Institute of Technology (UOIT) students set aside many hours of personal time in March to provide free tax return services to individuals in the community. The members of the UOIT Accounting Association (UOAA) offered these services through the Community Volunteer Income Tax Program (CVITP).
"We saw this as an important way to contribute back to the community and also apply the knowledge students had gained through the Introduction to Taxation course in the Faculty of Business and Information Technology," said David Belcastro, Tax Clinic Co-ordinator. "We were able to assist those people whose tax situation was relatively simple. We also helped clients with ensuring they claimed deductions that are common for students, such as tuition and book credits, interest on student loans and public transit costs." 
Prior to the clinic, the UOAA also organized few taxation workshops to help educate domestic and international UOIT students about basic tax information.