UOIT student faces the dragons on CBC's Next Gen Den
March 23, 2015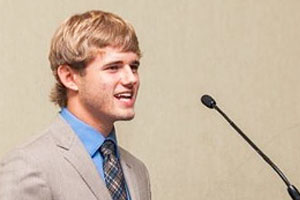 A University of Ontario Institute of Technology (UOIT) student will receive funding for his pharmaceutical software startup after successfully pitching his business on CBC's Next Gen Den.
Next Gen Den, an online version of Dragons' Den, features Canadian entrepreneurs under the age of 40 (average age of 27) presenting their business concepts and products to a panel of next-generation Canadian business moguls who have the cash and know-how to make it happen. The show's 10-minute, mobile-friendly webisodes are designed to appeal to younger viewers.
In the March 9 webisode, Spencer Turbitt, a fourth-year Marketing student in the university's Faculty of Business and Information Technology, and his business partner, University of Ottawa alumnus Ahmed Younis, appeared before Next Gen Den judges. Turbitt and Younis requested a $60,000 investment in their two-year-old company, iApotheca Healthcare, which creates software for pharmacies and nursing/group homes. In return, they offered the dragons five per cent equity in the business.
In the end, the duo struck a deal for $60,000 in return for 15 per cent of company, and a 10 per cent royalty until they get their initial investment back.
"Congratulations to Spencer for all of his accomplishments to date," said Stephen Rose, Associate Dean, External, FBIT. "The University of Ontario Institute of Technology is proud to offer students a wide variety of opportunities to apply their business skills and gain valuable practical experience through our various entrepreneurship-focused programs. All of this has paid off for Spencer with the launch and growth of a successful business. We look forward to hearing about many other achievements for his company and in his entrepreneurial career moving forward."
Turbitt, CEO and Director of iApotheca, says his software will help mitigate the high risks associated with errors that occur in pharmacies. Many of those errors are made because of the paper-based nature of the pharmacies' processes. "Our software modules allow pharmacies to digitalize the assembly and approval process of medications as they go out the door, and track them more efficiently," he says. "This helps reduce incidents and errors."
For example, if Health Canada recalls a certain medication, the pharmacist can enter the name of the medication in the software, and can create a report that shows all of the patients currently on that medication, or who have used it in the last 12 months. "This gives the pharmacies a much faster response time than trying to figure it out without our system," he says. "It also increases their productivity, and therefore the number of clients they can service."
Turbitt credits the programs and professors at UOIT with providing much-needed support for the launch of his business. During his time at university, he has participated in the FBIT Business Incubator program. He also attends almost all of the monthly Entrepreneurship Cafés and has advised the FastStart student entrepreneurship program on what kind of support students look for from the university.  
"Any professors I have gone to for advice have been more than willing to help and support me in any way they can," he says. "From the FastStart and incubator sessions I have learned about the legal aspect of entrepreneurship, such as patents, trademarks and copyright. I have also learned how to commercialize a product and how to build a sales funnel."
One of the best aspects of UOIT's entrepreneurship programs is the chance to work closely with other student entrepreneurs. "It allows us to bounce ideas off of each other and grow our businesses together," he says.
Turbitt connected with Younis, iApotheca's Vice-President of Sales, as well as the company's other two partners Rachelle Smerhy-Hallin, Vice-President, Operations, and David Hallin, Vice-President, Development while running a student College Pro Painters franchise during his first and second year of university.