UOIT students prove their cyber security know-how at two Capture the Flag competitions
March 13, 2015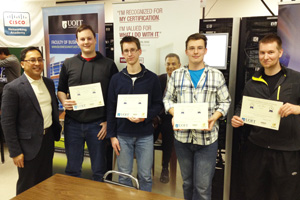 Several University of Ontario Institute of Technology (UOIT) Networking and Information Technology (IT) Security students and alumni showed they have what it takes to succeed in the real world of cybersecurity by taking first place in two recent Capture the Flag information security competitions.
"We are proud of our students and alumni for their success and participation in these events," said Dr. Khalil El-Khatib, Associate Professor, Faculty of Business and Information Technology (FBIT). "We encourage our students to take part in these types of competitions and conferences to showcase their skills, engage and network with members of the IT security industry, and put into practice the theories learned through their studies."
FBIT hosts 2015 Capture the Flag competition
FBIT's sixth Capture the Flag competition on February 8 drew Networking and IT Security students from as far away as Finland to UOIT for an opportunity to showcase their comprehensive knowledge of information security and networking technologies.
Teams of students from UOIT, Seneca College and Turku University of Applied Sciences in Turku, Finland worked together to defend and attack enterprise-scale information systems. This year's emphasis was on identifying, patching and mediating attack vectors (unpatched and misconfigured software, backdoors and other paths hackers take to gain access to computers or network servers) commonly seen in enterprise environments. Participants had to defend their assigned assets while attempting to subvert competing teams using identified vulnerabilities.
Chris Bellman
Eric Brown
Ian Dunbar
Burton Naylor
First place went to a team of fourth-year Networking and IT Security students at UOIT. A team from Turku University of Applied Sciences took second place, while third place went to a team from Seneca College in Toronto, Ontario.
The competition was followed by a small reception and award ceremony. The event was sponsored by Symantec and the Information Systems Audit and Control Association (ISACA).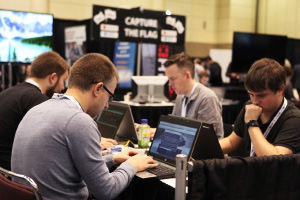 FBIT students win big at SecTor 2014's Capture the Flag challenge
A current student and two alumni from the Networking and IT security program were among the winners at the SecTor 2014 conference's Capture the Flag competition.
Team SomeRandomName, which included UOIT alumni Mitch Dollin and Nolan Suess, took first place on the first day of the competition. Meanwhile, Alex Keller (Team Nycroth), a fourth-year UOIT student, placed first on the second day. A total of eight UOIT students in their second, third and fourth year competed in the event.
This Capture the Flag challenge involved a simulated military network infiltration. Teams completed objectives so they could find flags and earn points; the task's difficulty determined the number of points earned per flag captured. The team that collects the most points (not the most flags) wins.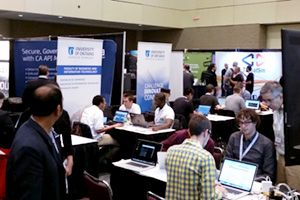 Challenges included:
Exploiting networks.
Reverse-engineering and cracking software.
Gaining full control of specific network devices ('rooting').
The challenge was held at SecTor 2014, an IT security conference in Toronto, Ontario. The conference brings together experts from around the world to share the latest research trends and techniques related to underground cyber threats and corporate defences with IT professionals from around the world.