Veridian Connections invests in the success of students at UOIT
March 20, 2015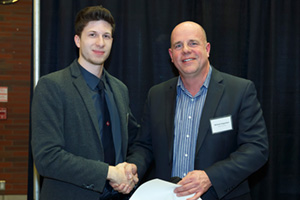 Veridian Connections (Veridian) is continuing a long standing tradition of supporting University of Ontario Institute of Technology (UOIT) students by energizing the Student Success Fund with a $25,000 donation.
The gift will create the Veridian Scholarship in Electrical Engineering, to be awarded annually to deserving students enrolled in the Faculty of Engineering and Applied Science's Electrical Engineering program.
"We are pleased to continue our strong partnership with UOIT and invest in the Student Success Fund," said Veridian President and CEO Michael Angemeer. "It is important to equip students today as they will provide us with sustainable and renewable energy solutions, support SmartGrid technologies and conduct the research we need as we move forward into the future."
Since 2006, Veridian has proven to be a strong community partner, assisting student work on hybrid-powered vehicles, sponsoring various athletic and alumni events, and investing in the development of the Energy Systems and Nuclear Science Research Centre (ERC).
In recognition of the capital gift to the ERC, the university has placed a commemorative plaque in a student alcove on the second floor. The space offers students the opportunity to come together to form their own partnerships and work on projects that will shape our future.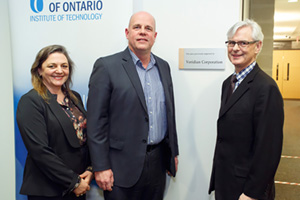 "Veridian's commitment to our students and confidence in their education has been steadfast, right from the very beginning," said UOIT President Tim McTiernan, PhD. "These funds put our students on the road to success, preparing them today for the energy-related jobs of tomorrow and strengthening our community as a whole."
About Veridian Connections
Veridian Connections is the seventh largest, municipally owned electricity distributor in Ontario. The company safely and reliably delivers electricity to more than 118,000 customers across east central Ontario.  Veridian's 200-plus employees focus on providing reliable, efficient and sustainable energy solutions and service, while maintaining the highest standards in health and safety within the workplace and the communities we serve. For more information, visit veridian.on.ca.