UOIT celebrates National Volunteer Week
April 10, 2015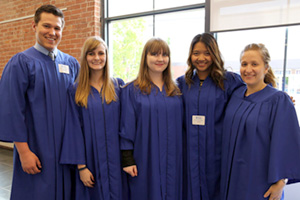 Oscar Wilde once wrote, "The smallest act of kindness is worth more than the grandest intention." Every act of kindness performed by volunteers at the University of Ontario Institute of Technology (UOIT) has a direct and far-reaching impact. The example they set creates a welcoming and supportive environment where students can develop both as scholars and as citizens leaders.
In celebration of National Volunteer Week from Sunday, April 12 to Saturday, April 18, UOIT recognizes the profound effect volunteers have on the success of the university.
"Volunteers are an integral part of the university community," said Susan McGovern, Vice-President, External Relations and Advancement. "Thank you to all of our volunteers for not only your gift of time, but for impacting the student experience and embodying the spirit of giving."
From governance and advisory positions, to helping with on-campus special events and varsity sports, volunteers contribute to every faculty, department and service. Through the collective efforts of the Board of Governors, alumni, students, faculty, staff and friends, the university continues to build bridges to the community.
During National Volunteer Week, UOIT would like to offer thanks to the individuals whose actions directly impact the university, making it a better place.