UOIT Communication student's paper sends her to prestigious Chicago conference
April 9, 2015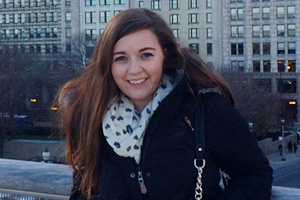 Presenting at prestigious conferences is a way of experiencing scholarship on a whole different level – participants have a chance to share their work and learn from each other in an environment teeming with new ideas and a passion for research. While conference presentations might be the norm for university faculty members, that's not usually the case for undergraduate students.
However, fourth-year University of Ontario Institute of Technology (UOIT) Communication student Samantha Bates recently proved that with dedication and meticulous research, undergrads can indeed take their research to this level. A paper she wrote for her Communication Ethics class was accepted for presentation at the recent National Communication Association Annual Convention in Chicago, Illinois.
"Congratulations to Samantha on this exciting achievement," said Dr. Nawal Ammar, Dean, Faculty Social Science and  Humanities (FSSH). "It is such a pleasure to see one more undergraduate student from our faculty present at a prestigious conference. This is a testament to the high calibre of education and support provided by members of the Faculty of Social Science and Humanities at the University of Ontario Institute of Technology."
The journey began when Dr. Sharon Lauricella, Associate Professor, FSSH, assigned her students to write an analysis of a communication ethics issue. Bates chose to write about catfishing - the act of concealing who you really are so you can hook someone into an online romance. In her paper, entitled: Is it wrong to put a worm on a hook? The ethical codes of the modern-day Catfish, she looked at the interactions between catfish (perpetrators) and catfishees (victims) through an ethical lens. She examined questions such as:
Why do catfish feel it's acceptable to create fake profiles?
Why do catfishees fall for them?
She also evaluated catfishing through the TARES test, which determines an action's ethical worthiness based on:
trustworthiness
authenticity
respect
equitability
social responsibility
Her conclusion was not surprising: catfishing doesn't pass the TARES test, and is therefore unethical.
After the course was over, Dr. Lauricella asked a handful of students to submit their papers to the conference. They worked together to improve their papers and submitted them, and in June 2014, Bates received notification that she was accepted to present at the conference. "I was ecstatic," she says. "When I started my first year, I never imagined I would be travelling anywhere to present my work."
At the conference, Bates, along with three other presenters affiliated with universities in the U.S., presented her research on a panel entitled Fresh perspectives on the ethics of communicating identity in the present context.
"I learned a lot about how to present to a conference audience, I received thoughtful questions from the audience afterwards, and I was proud of my work, especially because I was able to hold my own among such accomplished individuals," she says. "I loved being in an environment where communication research thrives, and being exposed to so many research subjects that I would be interested in pursuing in the future."
Bates says Dr. Lauricella's guidance was crucial to her conference acceptance. "I would never have known about or submitted my work to this conference if she hadn't told us about it. She is an inspirational, talented, caring professor, and she has been an excellent mentor as I decide which directions to pursue after I graduate in the spring."
Gallery