UOIT Ridgebacks hand out awards to top student-athletes
April 16, 2015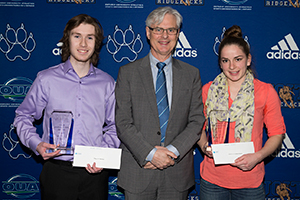 More than two dozen student-athletes at the University of Ontario Institute of Technology (UOIT) were recognized April 7 for combining academic achievement with sport performance.
 
Katherine Koehler-Grassau (Applied and Industrial Mathematics, class of 2018) of the women's soccer team received the UOIT Scholastic Award for having the top overall GPA among female student-athletes. Riley Therrien (Criminology and Justice Studies, class of 2017) of the men's tennis team was presented with the male academic student-athlete award.
"We are proud to have 29 student-athletes recognized today for their hard work in the classroom," said Scott Barker, Manager of Intercollegiate Athletics. "The number of recipients shows how important success in the classroom is to not only the athletes, but to their coaches and university support staff that help them balance their class and athletic commitments."
Two days later at the Regent Theatre in downtown Oshawa, Ontario, the UOIT Ridgebacks named Taylor Landry (Criminology and Justice studies, class of 2017) of the women's lacrosse team and Ben Bevan (Commerce, class of 2015) of the men's curling team as the 2014-2015 Ridgebacks Athletes of the Year.