Science Rendezvous 2015 proves to be a fun-filled day of discovery
May 15, 2015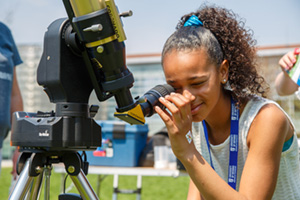 Families throughout Durham Region and beyond discovered just how exciting science can be as Durham College (DC) and University of Ontario Institute of Technology (UOIT) co-hosted Science Rendezvous on May 9.
From university labs to shopping malls and farmers' markets to hospitals, science champions gathered at dozens of venues across the country to share their passion for science and technology, and encourage public understanding and interest in this dynamic field.
With nearly 650 attendees at Science Rendezvous in Oshawa, the day proved to be an engaging, informative and a fun-filled adventure into the impact that science and technology has on our everyday lives – from candy and cookies to bugs and bones.
More than 60 activities were spread across DC and UOIT's shared campus in North Oshawa, providing something to pique everyone's interest. Some highlights included; extracting actual DNA from a strawberry, which participants even got to take home; building a balloon dragster while learning about Newton's law of motion; launching bottle rockets using only air and water; making ice cream out of liquid nitrogen; integrating science with art in a colour symphony; and a tour of ACE, a performance testing facility featuring one of the largest and most sophisticated climatic wind tunnels on the planet.
The grand finale was a spirited game of Science Jeopardy that tested the knowledge participants had gained throughout the day by visiting the different exhibits.                                                            
"It was a remarkable day," said Dr. Greg Crawford, Dean, UOIT Faculty of Science. "Kids, parents and grandparents wandered among the various displays, seeing, smelling, touching, and playing with a wide range of activities, and learning a little science and how the world works along the way. We are grateful to the many UOIT and DC faculty, staff, students and alumni that helped make this possible." 
"Science Rendezvous is a wonderful event that brings science to life for even the youngest of curious minds," said Susan Todd, Dean, School of Science, Engineering & Technology at DC. "We all have an intuitive sense of the role science plays in our lives, but don't always realize how fun it can be to learn its many functions. This event makes science accessible to everyone and provides an exciting hands-on experience that also engages the imagination and showcases the endless possibilities in this exciting field."
Gallery