UOIT President to help transform change in Ontario's credit transfer system
Tim McTiernan aims to enhance college-university transfer opportunities
May 1, 2015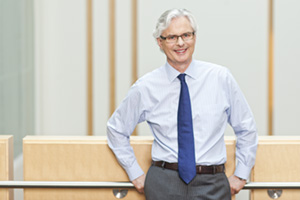 OSHAWA, ONTARIO — The Ontario Council on Articulation and Transfer (ONCAT) has appointed Tim McTiernan, President and Vice-Chancellor, University of Ontario Institute of Technology (UOIT), as its new Board Co-Chair (university). President McTiernan assumes the role from Dominic Giroux, ONCAT's inaugural board Co-Chair (university) and President and Vice-Chancellor of Laurentian University in Sudbury, Ontario.

"On behalf of the board, it is my pleasure to welcome Tim to his new role," said Glenn Vollebregt, President and CEO, St. Lawrence College in Kingston, Ontario and ONCAT's current Board Co-Chair (college). "Tim recognizes the importance of student mobility having served as a past-president of Canadore College, and now leading the University of Ontario Institute of Technology. His unique experience makes him an ideal Co-Chair for ONCAT as we continue to drive transformative change in the credit transfer system in Ontario."

Founded by the provincial government in 2011, ONCAT was created to facilitate and support academic collaboration and the development of transfer pathways among Ontario's publicly funded colleges and universities. ONCAT's board truly exemplifies the collaborative nature of the organization, being governed by two Presidents, one from a college and one from a university.
"I am thrilled to join ONCAT and take an active role in enhancing student mobility in Ontario," said President McTiernan. "As leaders of post-secondary institutions, we owe it to our students to provide them with the flexibility to broaden their horizons. Through continued collaboration with institutions, student groups, and government, I believe we can further develop a transfer system that is even more responsive to student needs."

"UOIT, under Tim's leadership, is a strong advocate for credit transfer, and it is committed to developing credit transfer pathways and partnerships with colleges and universities," said Glenn Craney, Executive Director, ONCAT. "With Tim's proven track record, I am confident he will be an excellent addition to the board."

Since 2012, ONCAT has worked with its 45 partner institutions to implement many initiatives, including the collecting of student mobility data, the launching of the Course-to-Course Transfer Guide, and the signing of the Memorandum of Understanding with its provincial counterparts in Alberta, British Columbia, and New Brunswick to create a pan-Canadian system of credit transfer.
About ONCAT
Established in 2011, the Ontario Council on Articulation and Transfer (ONCAT) was created to enhance academic pathways and reduce barriers for students looking to transfer among Ontario's 45 publicly funded colleges and universities. As a member organization, it works with those institutions to develop transfer credit policies and practices to ease student mobility.
Media contact
Lia Quickert
Strategic Communications and Public Affairs Director, ONCAT
lquickert@oncat.ca
416.640.6951 ext. 305