UOIT researcher showcases carpooling app at CivicAction summit
May 11, 2015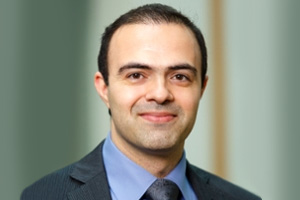 The University of Ontario Institute of Technology's (UOIT) Dr. Hamid Akbari recently showcased Blancride, his innovative carpooling platform, at the 2015 CivicAction Summit – Better City Bootcamp in Toronto, Ontario.
Blancride is a mobile application that incorporates GPS and smartphone technology to match passengers and drivers so they can share a ride. Dr. Akbari, Assistant Professor, Faculty of Business and Information Technology (FBIT) launched the app along with a group of 13 UOIT students and alumni in December 2014.The startup was recently accepted to Spark Innovation Centre's Thrive Accelerator Program.
"Congratulations to Hamid on this exciting opportunity to raise awareness about his unique carpooling solution," said Dr. Robert Bailey, Acting Dean, FBIT. "This is just one example of how our faculty and student research can make a real difference, one car at a time."
The CivicAction Summit is organized by the Greater Toronto CivicAction Alliance. The goal of the event is to set the multi-sectoral civic priorities for the Greater Toronto and Hamilton Area (GTHA) for the next four years. It also identifies actions that contribute to the region's quality of life and its economic, social and environmental prosperity.
Participants have a chance to meet with hundreds of city builders from various sectors across the GTHA to:
Communicate and discuss current issues influencing the region's personal and civic health and well-being.
Catalyze action and foster the exchange of ideas between community leaders and organizations.
Forge new relationships. 
The Better City Bootcamp focused on five foundational issues and opportunities at the core of the region's health and resilience: 
Childhood health
Growing need for mental health support
Housing affordability for seniors
Public space
Tomorrow's infrastructure needs